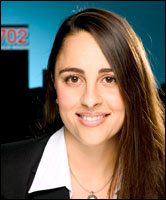 Rhodes > JMS > Latest News
Primedia Broadcasting Group Editor-in-Chief Addresses JMS
Date Released:
Thu, 27 September 2012 22:50 +0200
Katopodis spoke about the evolution of Primedia from a pure radio format, to now embody what she terms "360 degree content provision" which maximises Eyewitness News' online presence through the use of multimedia content provision that includes photography, videography and social media in a complete end-to-end news dissemination approach.
"The Primedia journalist of today" she said, "is simultaneously live tweeting, recording, taking photos and filing reports."
For Katopodis this integrated media content model makes multiskilling a top priority for journalists, which also opens up other hitherto unexplored areas for them to excel and thrive in. Meeting with 3rd year Radio students for an intensive two hour presentation and question and answer session, Katopodis then presented to a mixed group of staff and senior students, before holding meetings with Head of School, Prof Larry Strelitz, CEO of Grocott's Steve Kromberg and the Director and Deputy Director of the Sol Plaatje Media Leadership Institute, Francis Mdlongwa and Peter du Toit respectively.

JMS was delighted to host Ms' Katopodis for the day and thanks her for taking the time to make her invaluable contribution.


Source: