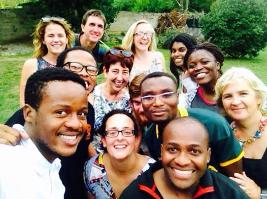 Rhodes > JMS > Latest News
Mellon group welcomes 2015
Date Released:
Mon, 9 February 2015 11:43 +0200
By Anthea Garman
All fired up and raring to go! the Media and Citizenship research project has acquired new members, has an association with another degree and has more funders. The project is also planning a colloquium and book in association with Herman Wasserman at UCT. This year the group has been joined by Carissa Govender and Hannah McDonald, both doing practice-led masters degrees which will combine journalism with research. The doctoral students still with us are Marietjie Oelofsen (not in the picture and based at Kettering in the US), Rod Amner, Azwi Mufamadi and Mvuzo Ponono. Brand new is PhD student Chengetai Chikadaya (the co-ordinator of the East Cape Communications Forum). MA students continuing are Meli Ncube and Welcome Lishivha who embark on their research this year and Hancu Louw and Cathy Gush, both enrolled in practice-led MAs. Mia van der Merwe has joined us as the project leader's assistant (see the Researcher page on this blog for details of each person's reseach).
The book project, called Media and Citizenship in South Africa: Between Marginalisation and Participation and edited by Herman Wasserman and Anthea Garman, will involve a colloquium in Cape Town in March at which chapters will be presented and discussed. Invited authors are: Tanja Dreher (from the Listening Project in Australia, based at Wollongong) who will be our main speaker, Harry Boyte, Steve Robins, Laurence Piper, James Arvanitakis, Steven Friedman, Judith February, Richard Pithouse, Niren Tolsi, Yves Vanderhaeghen, and Benjamin Fogel. In addition Peter Dahlgren, Susan Bickford and John Hartley have agreed to write chapters for us. More details as plans firm up…
The project is now also funded by an NRF Competitive Support for Unrated Researchers grant and two of the PhD students (Azwi and Mvuzo) are funded by Atlantic Philanthropies. Hancu, Carissa, Hannah and Cathy are doing their masters study through a practice-led research process which injects the element of journalism practice into the group life of the project.
Source:Rhodes JMS