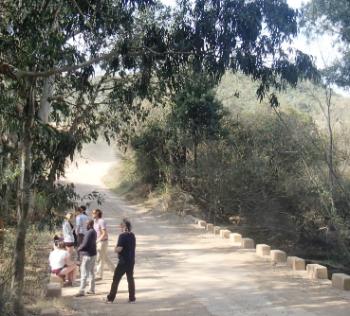 Rhodes > JMS > Latest News
In the field with Rian Malan
Date Released:
Tue, 17 September 2013 10:18 +0200
By Annetjie van Wynegaard
It was a dark and stormy night. The intrepid writer had drunk his wine, eaten his fill, and was making his way towards the door. But before he could slip out, he stopped. In the back of his neck he felt their eyes bore hot through the creases – students, waiting for a last word, a nod or a wave, an acknowledgement that they were here and something spectacular had happened. He turned around to face the eager young writers, but the words were never going to be enough, we could see them being formed and discarded mid-birth behind his darting eyes. Yet he tried, delivered rushed words of encouragement before disappearing into that cold lonesome night.
Two weeks before, Rian Malan had arrived at the School of Journalism and Media Studies as a guest teacher for the third term's writing course on long form journalism. Rian helped fourth year writing and editing students hone their craft as creative non-fiction writers. He arrived at end of the first draft period, and then sat with each student individually to talk through the story for a stronger and better piece.
This wasn't Rian's first visit to the School. I met him back in 2010 when I was a fresh-faced fourth year keen to please the master of South African storytelling. This year, I told writing lecturer Gill Rennie that I wanted to interview him for the School's website, and she invited me along on a writing class field trip to the Blaauwkrantz Bridge where local historian, ecologist and retired teacher Ben Bezuidenhout told the story about the Blaauwkrantz Bridge railway disaster of 1911.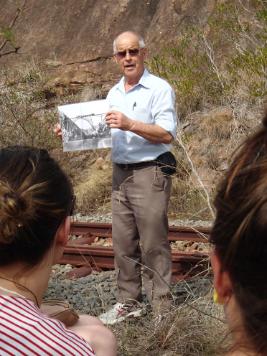 During the field trip I learnt two things about Rian. Firstly, he's afraid of heights. After his talk Ben invited us to walk (at our own risk) on the bridge where the train had derailed 102 years ago. I saw Rian shake his head at the gaping holes in the rusted iron, and left him behind on solid land.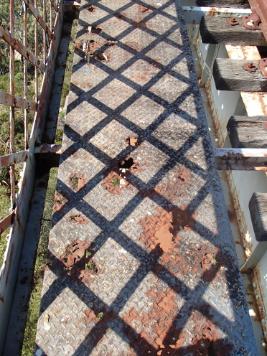 I learnt, secondly, that he has recurring dreams about rewriting his Matric exams and feeling unprepared. But I couldn't quite pin him down for an interview, possibly because we went to Bathurst and played pool instead.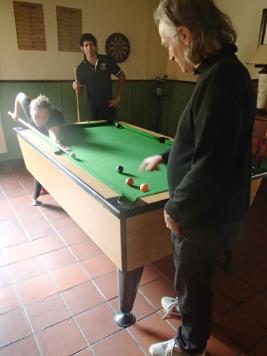 The next day I found him outside and accosted him with my recorder. I asked him about the process of writing and the relevance of long form journalism today (listen to the podcast).
Rian had learned to write in the School of Hard Knocks of Life. He isn't sure that you can teach people how to write. "I think if you can't hear the music you're never going to hear it." He's old and cynical now but he still remembers how vulnerable he was as a young writer in the States without a "dompas", scrubbing dishes and trying to write for underground magazines. His first big break, an exploration of the Sex Pistols and the "larger deeper meaning of punk" was destroyed by rock critic Richard Meltzer and has informed the way Rian approaches his students. "You don't want to do that to impressionable young people." Instead he shared his tricks of the trade and sleights of hand with them, tried to show them how stories can unfold.
"Writing," he said, "is a process of discovery, of unbearable pain and suffering." The bad news is that writing never gets easier. "If it's not pain and suffering you should be quite worried. People who find writing easy are dangerously close to considering themselves geniuses."
His coping strategy includes cigarettes (which he's given up), coffee, and the use of subheadings. Rian likes to start his stories with what he calls the "Dark Knight" opening caption of a dark and stormy night where the intrepid narrator grapples with an issue as a starting point to the rest of the story. He writes long and useful subheads, for example: "Part one: In which we learn …, part two: in which it is revealed that …" to organise his thoughts.
Despite his tough-guy persona Rian enjoys working with students. He likes to hear their different story ideas and often wants to kick himself that he hadn't thought about them first. "I f**ing love stories," he said, and he loves hearing about what happened to stories long after they have been written. Three years after he mentored me, he asked, "How's your brother doing these days?" He remembered all the details of my story, including my angst and fears that my younger brother was being damaged by the education system.
"I believe human beings understand issues best through the experiences of other human beings," he said.
But there are problems with teaching long form journalism – among other things, context and platforms. Rian caught the tail end of the great American magazines in the 1980s that paid him up to 30 000 dollars to do lots of interviews and write in-depth long form stories. With the advent of digital media and the decline of magazines, this isn't possible anymore. Yet Rian believes that in South Africa we need long form journalism, and he'll continue to come back to share his gift with students and teachers.

Photographs by Gill Rennie.
Main photo: Rian Malan and the writing students skip stones on the river.
Photo 2: Ben Bezuidenhout speak about the Blaauwkrantz Bridge railway disaster of 1911.
Photo 3: The Blaauwkrantz Bridge today
Photo 4: Playing pool with Rian Malan and Fabio de Dominicis in Bathurst. Fabio arranged the field trip with Ben Bezuidenhout for his class as part of his long form story.
Source: