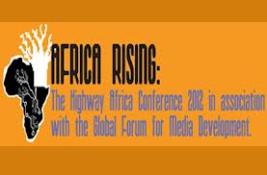 Rhodes > JMS > Latest News
JMS Hosts Highway Africa Conference
Date Released:
Fri, 7 September 2012 13:19 +0200
Along with the 2012 conference theme: Africa Rising? How the Media Frame the Continent's Geopolitics, Trade and Economic Growth, is a series of seminars that will examine the emergence of the BRICS countries and the effect this has had on African media.
Head of Research Unit for Media in the South and Rhodes University professor Herman Wasserman will convene the seminar series entitled 'The Rise of the Rest': Journalism in the BRICS Countries.
Professor Thandika Mkandawire from the London School of Economics (University of London) is due to deliver the opening address. Academics and civil society members from China, India and South Africa will attend the panel discussions on the issue.
Delegates will flesh out questions about the role the media can play in developing economies and the benefits journalism can gain from BRICS partnerships.
The perceived rise of Africa comes at a time of increased internet usage on the continent. Highway Africa sponsors Telkom and MTN will present on broadband usage in Africa.
The HA director Chris Kabwato said that broadband technology will play a vital role in the future of the African continent. "We need to look at how these technologies are going to transform African economies and stimulate innovation," Kabwato said.
Another sub-theme for this year's conference is what we can learn from the Arab Spring. Rhodes University Media Studies scholar, Admire Mare will lead a discussion on Political Rising – Technology and Social Change - Lessons from the North on the lessons learnt from the uprisings.
Source: