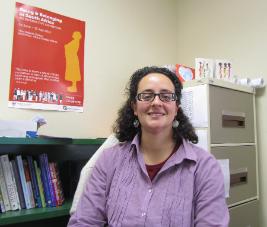 Rhodes > JMS > Latest News
JMS researcher attends first African School on Internet Governance
Date Released:
Mon, 1 July 2013 11:15 +0200
Rhodes Journalism and Media Studies researcher Vanessa Malila has been selected out of more than 300 applicants to attend the first African School on Internet Governance to be held in Durban from 10 to 12 July this year.
Malila is doing a post-doctoral fellowship in the Mellon Research Project on Media and Citizenship and has been invited by the Association for Progressive Communication (APC) and the New Partnership for Africa's Development (NEPAD) to participate in discussions around Internet Governance (IG) in Africa.
Malila did her PhD at the University of Leeds on the role of media in communications policy development in Kenya, and how media can be effective stakeholders in communication policies. The African School on IG will cover topics on the history and overview of IG; policy, development and human rights; regulation and management; and multi-stakeholder approaches to IG. Malila finds all these topics of interest to her research, particularly multi-stakeholderism.
The first Summer School on IG was held in 2007 in Meissen in Europe, and since then it has become an annual event, inspiring similar initiatives like the annual South School on IG in Latin America and an Asian Pacific school in 2011. The African School on IG will build on their experiences, but will strive to meet African needs and use African expertise on IG.
Malila said she's pleased to have been selected, and that learning and reconnecting with issues around Internet Governance will benefit her research on youth for the Mellon Project. "I'm very excited to meet with other people who have an interest in the field," she said.
APC's vision is for all people to have "easy and affordable access to a free and open internet to improve their lives and create a more just world", and NEPAD is an African Union strategic framework for pan-African socio-economic development.
Source: