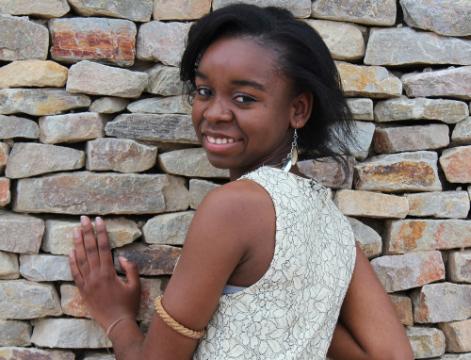 Rhodes > JMS > Latest News
JMS student wins international essay competition - and a trip to Paris
Date Released:
Wed, 26 June 2019 08:51 +0200
Sacree Kabeya was shocked and excited when she found out that her essay, one of 170 submitted, won one of five coveted prizes from the World Journalism Education Congress (WJEC). Representing Rhodes University, the nation and the African continent, the third year writing and editing student also receives an all expenses paid trip to Paris to WJEC, which takes place next month.
The Congress invites journalism educators, practitioners and students to engage in a rigorous programme, aimed at sharing best teaching practices and creating a home for top-notch research papers, all dedicated to journalism education. As part of the programme, Kabeya, along with the other four winners, will present their essays to over 460 delegates. This year's question asked the students to 'Imagine the Journalism School of Tomorrow'.
Kabeya proposed a community-oriented approach to journalism education, drawing on her experiences of education journalism as part of her coursework, as well as her writing experiences with campus newspaper The Oppidan Press and Makhanda's Grocott's Mail. Kabeya is also a tutor at the GADRA Matric School.
"In some ways, monitorial journalism is running it's course, so I wanted to focus on an education where we care about telling people's stories directly from their mouths, going into where the issues are, and detailing what citizens are doing to address them. We can't just work off Western models anymore, so I was thinking about ways to draw in and celebrate the African context. I'm very privileged that I went to a good school, that I go to Rhodes, and that I'm finishing a degree - but that's not the case for everyone and their stories matter," explains Sacree.
As part of the process, Kabeya also drew on the guidance of her lecturer, Rod Amner, whose passion for education and education journalism left a serious impression.
Amner said he was "stoked" by Kabeya's achievement and proud of his third year writers, who are writing compelling counter-narratives of education innovation and success in Makhanda for the Grocott's Mail education desk.
"For the past while, a broad-based civic alliance, dubbed 'the VC's initiative', has mushroomed around education in Makhanda, following the vision outlined by Rhodes vice-chancellor Sizwe Mabizela in his inaugural address in 2014. This is culminating in some unprecedented success and the students are doing a great job of bringing these stories to light," Amner said.
During the process of writing her essay, Kabeya took much advice from her lecturer, who encouraged the class to apply for the prize.
"Rod is so passionate about the subject, and has such a deep interest and enthusiasm, and that rubbed off on me. That is the kind of approach to journalism education that I think we need, where the community really matters to lecturers and Journ students," says Kabeya.
But, this is only the beginning. As a third year journalism and law student, she has a bright future ahead, and sees her win as the beginning of many opportunities. She wants to continue with journalism, but also has a keen interest in Media Law and ethics.
To stay tuned to her trip to Paris, follow the Rhodes JMS Twitter page, and for more of her work, have a look at her blog page, Pursuit of Being.
Source:SacreeWJEC