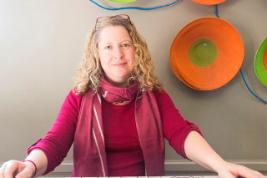 Rhodes > JMS > Latest News
Storytelling through the lens
Date Released:
Mon, 28 September 2015 15:18 +0200
By Ettione Ferreira
Jodi Bieber has made waves in the South African photojournalism industry since her photograph of Bibi Aisha was published on the front cover of Time magazine in 2009. The photo also earned her the prestigious World Press Photo: Photo of the Year award as well as first prize in the portrait singles division, in 2010. This week Rhodes JMS hosted Bieber for a series of guest lectures to our students.
‌Bieber grew up in Johannesburg during the height of Apartheid. "I used to see the yellow police vans driving past and I knew something was wrong. I didn't always believe what was said to me by the system," Bieber says. These were the years that her interest in history and world events started flowering.
Bieber started off as a media planner for marketing companies and only found her calling in photography when touring by herself. "When I travelled for 10 months on my own I just instinctively used a camera to document my journey rather than write a diary. In a way my spirit was always attracted to looking at people of different cultures. I just knew that being a media planner was not my destiny, I wanted to be a photographer. It was a true calling," she says.
She went on her first photojournalism job after receiving an internship at The Star newspaper with famous photojournalist, Ken Oosterbroek who was part of the famous "Bang Bang Club". He also remains in her memories as one of her inspirations. She says, "Ken was a big influence. He gave me my first break and taught me about perfection." Some of her other favourite photographers include David Goldblatt, Roger Ballen and the School's very own Jenny Gordon, third year photojournalism lecturer. Listen to her tell us more about these inspirational photographers HERE.
Throughout the years she has published books showcasing some of her most popular collections, including Between dogs and wolves, Soweto and her latest, Real Beauty. In 2009 she won the Prix de l'Union Européene at the Recontres de Bamake Biennale Africaine de la Photographie. Bieber has also freelanced for publications such as The New Yorker and TIME magazine. During her project for TIMEin 2010, she took one of her most recognised photographs: the photo of Bibi Aisha (displayed above) which landed her a front cover on the magazine, and later that year, the World Press Photo's top award, Photo of the Year (watch a video TIME did about Jodi's photograph HERE).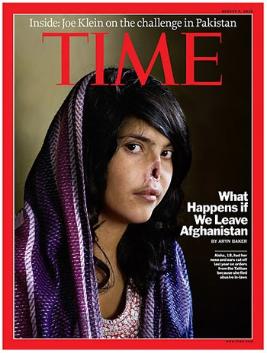 Since then, she has been invited to do workshops, and seminars and to exhibits in galleries across the world. Bieber now teaches at the Market Photo Workshop in Johannesburg, with a possibility to do a few workshops in Cape Town later this year.
During the National Arts Festival this year, when she exhibited, "Between Darkness and Light" in the Albany Museum, Bieber met up with long-time friend, Jenny Gordon, and they discussed the possibility of her visiting the School later in 2015.
Bieber's message to aspiring photojournalists? "You have to work really hard. Photography is about really hard work but at the same time is about being true to yourself and choosing subjects that have a relevance to your history or to your life - something that's more meaningful than just choosing subjects that are far removed from you - and then also to conceptually interpret them in interesting ways, and not just to be a person who records."
View Jodi Bieber's website for some of her photography.
Source:Rhodes JMS