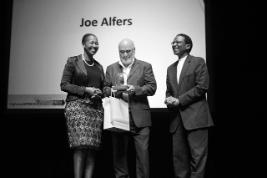 Rhodes > JMS > Latest News
From tech backroom to centre stage
Date Released:
Wed, 1 October 2014 12:58 +0200
By Ettioné Ferreira
During the Highway Africa Conference gala evening, JMS technology manager Joe Alfers, received an award to thank him for his dedication to the conference.
Q: What was the award all about?
A: The Highway Africa Fellow award was introduced this year for the first time for 'outstanding service and contribution to Highway Africa'.
Q: How long have you been involved with HA and what did you do for them?
A: I have been involved with Highway Africa since the first conference, which was held in the Rhodes Theatre in the Drama Building with a handful of delegates, in 1997. As the conference developed the technology requirements have become more sophisticated – presentation formats have evolved, ICT requirements are more complex, registration systems are now online and interactive, web presence is essential and practical workshop infrastructure is required to keep pace with developments in media technology. My role has grown from providing a microphone and video camera for the first conference to planning for and supervising a complex interaction of technologies that are now part of the conference and its associated workshops and outreach programmes. The conference has always been an early-adopter for new technologies, and as a result has pioneered many of the now mainstream technologies. Fortunately Rhodes University has a robust IT infrastructure, and we have had talented tech staff and students to make it happen.
Q: How did you feel when you won it? Did you suspect anything?
A: It was an honour to be recognised as a contributor to the success of Africa's biggest media conference, but I had no idea it was to be an award of this magnitude, alongside six towering figures of the media (Amina Frense, Elizabeth Barratt, Adam Clayton-Powell, Jovial Rantao, Cheriff Sy and Mathatha Tsedu). I knew something was out of the ordinary when I was instructed to be at the award ceremony (my usual place is the backroom, where tech people do their best work) but was expecting a voucher for lunch at the Red Cafe.
Q: You're retiring at the end of the year and leaving Grahamstown. How long have you been working for Rhodes and where are you going from here?
A: I started working in the then Department of Journalism and Media Studies in 1996. I came to Grahamstown to join my wife (and family) when she took up a post at Rhodes. Now that my sentence has been served, I am going to join my wife again, as she now works in Muscat, the capital of Oman.
Q: Any last thoughts about HA you'd like to share with us?
A: It has been a unique experience to be involved in Highway Africa over the years, and to work with Chris Kabwato, who has taken the organisation from uncertain beginnings, taking up the baton from the early innovators Roland Stanbridge, Guy Berger and Christo Doherty, and developing and sustaining it as a major landmark in the African media landscape, a great achievement in spite of considerable difficulties along the way.
Source:Rhodes JMS