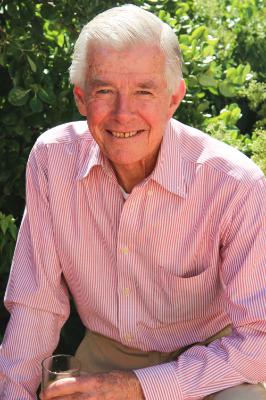 Rhodes > JMS > Latest News
Jolyon's Rhodes Journey
Date Released:
Tue, 15 April 2014 12:59 +0200
by Ettioné Ferreira
Jolyon Nuttall presented a module on "Leading Strategic Planning and Managing the Budget" on 28 March 2014 at the Sol Plaatje Institute (SPI) during the short course Essentials for Broadcast Management. This is not the first time this seasoned media professional has visited Rhodes University. Nuttall has a long history with the School of Journalism Department and played an influential role in the purchase of Grocott's Mail and the founding of the SPI.
Between 2000 and 2004 Nuttall took on a project to create curricula for some of the modules taught during the then newly-introduced Diploma for Media Management at the SPI. He created modules on media economics and planning; marketing, advertising and audiences; and circulation anddistribution management.
Professor Guy Berger, then head of the School of Journalism and Media Studies, approached Nuttall in 2003, Nuttall explains, "Guy asked me to evaluate whether the university should purchase Grocott's Mail. I set about investigating that, both as opportunity to extend the life of the oldest independent newspaper in South Africa and to open it up as training media to university students. I completed my analysis and I recommended that they should buy it."
Nuttall said recently: "I am thrilled it is meeting the double objective that we set out for it; it is kept alive as the oldest independent newspaper and it is educating journalism students."
In addition to his work with Rhodes, Nuttall also does courses for the University of the Witswatersrand and the Graduate School of Business at the University of Cape Town. In 2010 Nuttall taught a human resources course as part of the post-graduate course in media management at Cairo University in Egypt.
Nuttall brings 34 years of mainstream media experience to the courses; he has worked for the Daily News in Durban and was general manager of The Star and The Sowetan in Johannesburg. He also has 10 years of editorial experience in London and New York. He was invited to work in management for various branches of the Argus company, culminating 10 years as general manager of The Star. He also held other important positions in the media industry as President of the Newspaper Press Union (1989-1990), Chairman of the Audit Bureau of Circulations of SA (1987-1988) and Vice-Chairman of the South African Press Association (1990-1991).
Source:Ettioné Ferreira