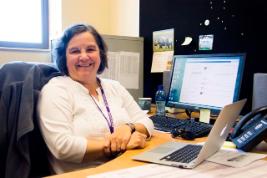 Rhodes > JMS > Latest News
Kolodzy and the evolution of journalism education
Date Released:
Mon, 29 September 2014 09:46 +0200
By Ettioné Ferreira
Social media and online media have been presenting many obstacles for journalism over the years. Janet Kolodzy tells us that 'old' way of media needs to work with online media rather than against it. Convergence journalism needs to be taught at journalism institutions to stay atop the developments in the media world. "Journalism is evolving... and journalism education needs to evolve with it," Kolodzy says.
Kolodzy is a professor in the Department of Journalism at Emerson College in Boston. She refers to herself as a "recovering journalist" as she spent time as a reporter, producer and editor at CNN and CNN International for 11 yearsshe started working as educator at Emerson College in 1998. She has written two books, Convergence Journalism (2006) and Practicing Convergence Journalism (2012).
Kolodzy came to the School of JMS for three months, starting as online editor for Cue newspaper and ending her time with us with the Highway Africa conference. She points out the importance of collaboration in convergence journalism and educating students for the converged environment.
Specialisations (which work on individual platforms) need to work together to create content, she says. Students also need to learn to be multi-skilled in order to survive in the modern media world.
Her knowledge of the US journalism landscape gave interesting insights into the role which convergence journalism plays.
One of the experiences she shared was that of the Boston Marathon bombings of last year. Social media played a significant role in the reporting of the event. "Professionals (journalists) were very good as the chroniclers, whereas citizen journalists on social media were the eyewitnesses," Kolodzy says.
She explains that journalists took information from social media, which came from normal citizens, and then verified it making them the gatekeepers and verifiers of information.
Another important point Kolodzy has noticed is the way online journalism has changed. She notes that before it was about who could get the story out first on social media but now it is about who is the most credible. Audiences do not want to read from a link that is untrustworthy even if they are first to publish.
Kolodzy says journalists need to be open to the use of different platforms and thus it is important for educators to start teaching convergence to the journalists of the future.
For an interview podcast with Janet Kolodzy, visit our SoundCloud site: https://soundcloud.com/rhodes-jms-1/janet-kolodzy-interview
Source:Rhodes JMS