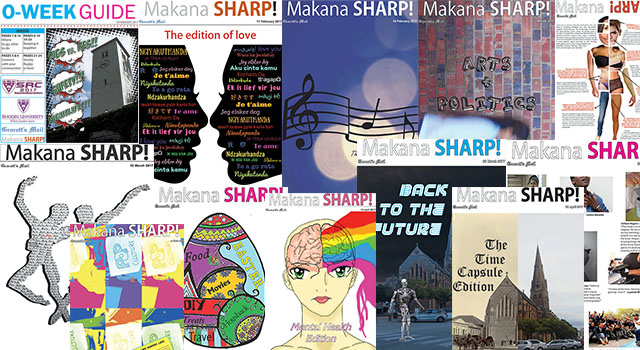 Rhodes > JMS > Latest News
Print is not dead: Making a success of Makana Sharp!
Date Released:
Fri, 30 June 2017 07:00 +0200
By Carey Finn
If you've paged through a copy of Grocott's Mail recently, a colourful supplement may have caught your eye. From early February to the end of June this year, the fourth-year Writing & Editing class produced, as part of their coursework, 4-8 pages of content geared towards the newspaper's younger readers each week. It's been published under the banner Makana Sharp!, and it's been a resounding success.
Building on the foundations laid by their 2016 counterparts, the class, comprised of up-and-coming journalists Amy Pieterse, Kayleigh Damita, Shereesa Moodley, Nereesha Patel, Ayanda Gigaba and Khinali Bagwandeen, developed the Makana Sharp! brand over six months of intense work.
Under the guidance of Associate Professor Anthea Garman and Teaching Assistant Carey Finn, the team met (at least) twice weekly from late January and communicated almost daily as they got to grips with the idea of a "remote newsroom". As they were in charge of the entire production process themselves, all of the students were required to wear multiple hats: writer, sub-editor, photographer, designer and social media manager – among others.
Keeping to a strict schedule, the crew brainstormed themes and article ideas each week, solving issues (like that all-too-common irk of sources being unreachable or unresponsive), discussing Facebook and Twitter strategies, and planning the look and feel that would best showcase their writing. With the assistance of Grocott's Senior Designer Donnay Oosthuizen, the six students took on the bulk of the design work themselves, both to beef up their visual skills and ensure that the supplement was their own.
Themes ranged from hard-hitting to light and quirky; with highlights including Deconstruction, Existentialism and Paws for Thought. To keep things interesting, and in line with their brief to shake up the blocks and boundaries of print reporting, the six students experimented with genres as diverse as data journalism, Gonzo and sports commentaries, and even bordered on the bizarre with efforts in Dadaism and calligrams. The hope was that engaging creatively with the content would invite readers to do the same.
While some of the editions of Makana Sharp! certainly might have caused a double take or two, the feedback has been overwhelmingly positive, and the supplement has, perhaps in a small way, helped Grocott's appeal to a wider audience.
The project was, with great generosity (and courage), initiated by Editor Sue Maclennan, who offered the Arts and Entertainment section of the paper to last year's fourth-year students in the second semester. They published seven editions of Makana Sharp! before handing the reins to a team of volunteers formed by Journalism students from a variety of streams and years, who continued the work for a few weeks. Thereafter, the supplement went into standby mode until its revival early this year.
The 2017 team have produced a total of 21 editions of Makana Sharp!, a few of which were special collaborations with Grocott's that necessitated working with the newspaper's advertising team and various stakeholders. This ramped up the realism of the overall media experience.
As the team move on to focus on other coursework for the remainder of the academic year, Makana Sharp! will once again go into hibernation. You can expect to see it (in one form or another) again in 2018 – the same brand, under different management. In the meantime, you can read all of the 2017 editions here:
Source:Rhodes JMS