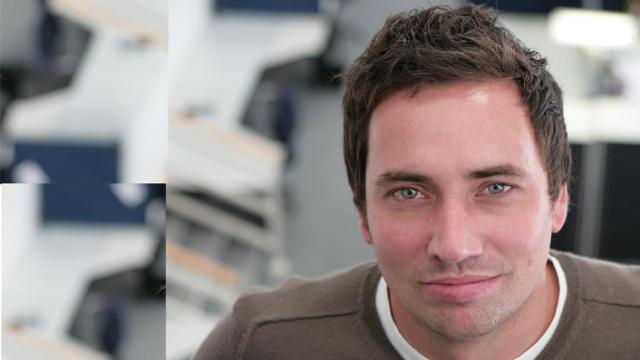 Rhodes > JMS > Latest News
It's the 100 successes out of the 1000 failures that move you forward.
Date Released:
Tue, 28 June 2016 18:10 +0200
Matthew Buckland is a Rhodes JMS alumnus now living in Cape Town who has recently sold his digital media business to a major international media player. Buckland has been recognised for his ingenuity by the Mail&Guardian (one of "300 Young South Africans you should take out to lunch"), by The Annual (one of the top 100 of "South Africa's most influential media and advertising people") and by Destiny Magazine (the Power of 40 list). He also holds three Webby Official Honorary Awards. Recently he made headline when he was approached by M&C Saatchi to acquire his business, Creative Spark and the deal went through late last year. We get the scoop on his business, career and views on his alma mater in a Q&A session:
The business:
Q: What made you decide build your own media company after being an online editor for other companies for so long? When did the entrepreneur side in you come out?
MB: The company I founded is a combined digital media company and digital agency. The idea of creating my own company appealed as a major life challenge, and I felt it would be a good, testing, character-building experience. I thought it would be a personally fulfilling thing to do. Although I love writing, I've always gravitated to the business side of media. In fact, I'm ashamed to say that I was officially employed as a journalist for only three months! (As an intern reporter at The Star newspaper after Rhodes). Internet media forces a multi-disciplinary approach, so after working as an editor for a while, I gravitated to working on the product, business and advertising side of media. My final jump into entrepreneurship came when I was at Naspers, working at News24.com. I was at a conference in Cape Town attended by about 30 companies and start-ups Naspers had invested in from around the world. It was a room packed full of entrepreneurs from all over – Vietnam, Malaysia, Brazil, Eastern Europe, China, Singapore… the buzz and energy was amazing, and the setting simply inspiring. I decided right then and there to leave my corporate job, handed in my resignation the next month and started the company.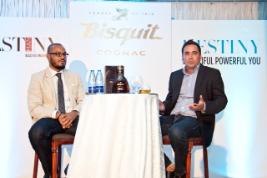 Q: What were you hoping to achieve with Creative Spark?

MB: Roughly, to employ 100 people and make a positive impact on the South African internet and digital innovation landscape. Create something of value in the world. Prove to myself, to my peers and to my family that I could put my money where my mouth was and put my mind to creating a company.
Q: Why did you go into digital media instead of other forms of journalism, did anything in particular change your path after studying JMS or were you always attracted to that side?
MB: The internet forces a multidisciplinary approach. You need to know content, but also understand the product, digital platform and business wrapped around that content, and to some extent even have knowledge of technology and code. I was exposed to all spheres of a media business and that gave me options: I was able to choose a path. When I worked at the Mail & Guardian I became business focused out of necessity. The immediate need was not to employ more journalists, but to build the business to bring in revenue so we could expand the business (and then employ more journalists). So naturally I developed an understanding and passion for the "business of media".


The Creative Spark team doing a fun-photo.
Q: Why did you decide to let M&C Saatchi acquire Creative Spark and what does this mean for the company?
MB: The company had grown too big for myself, as a single owner/entrepreneur to manage alone, so I needed help to run and scale it further. It now employs nearly 45 people, and I realized that it had got to such a size that I was holding it back. Aligning ourselves with a global UK-listed company and well known global brand allows us to expand more aggressively and push into new areas. It also means the flavour of the company will increasingly become more agency focused, as opposed to the mixed media-agency model that we originally set up.
Q: What are you doing now, are you still involved in Burn Media and Creative Spark or pursuing different dreams?
MB: I am very much involved in the business as we plan to grow it into the largest digital agency in Africa. The sale has also enabled me to get more involved in philanthropic and investment pursuits to give back to the ecosystems and institutions that shaped and helped me. For example: I'm financially assisting a bright young Rhodes journalism student and investing in South African start-ups and entrepreneurs.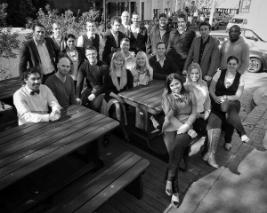 Creative Spark
His career so far:
Q: What were the highlights, for you personally, of your career?
MB: Working for the BBC in the UK and being involved in the early internet there, working on sites like TopGear, Radiotimes and being part of pioneering live internet chats with celebs like Allan Lamb, Kylie Minogue, Michael Palin, Uri Geller... and witnessing Uri Geller casually bend spoons while passing through our offices was fun. Being a young editor of the Mail & Guardian Online, having the opportunity, freedom to build the business and work with special people there. A highlight was also being part of the news24.com executive team and being exposed to, and being able to work with and build a relationship with one of the greatest media entrepreneurs this country has ever seen, Koos Bekker.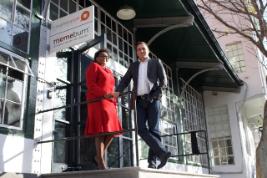 Q: Any paths you took which you now regret?
MB: I have few regrets. I thought very carefully and deeply about every move, ensuring it was aligned to an overall life plan and the objectives I had set myself. I mapped these out on a spreadsheet which I called "The Matrix" and monitored progress! Every one of my former colleagues and my former bosses shaped me in some way, and they are relationships I cherish.
Q: You were selected as the "Master of Digital" in 2015 and had a Q&A session with well-known actor, Idris Elba. I can't resist asking, what was it like to chat him?
MB: He was super cool, super relaxed and a really nice guy! He was very thoughtful and put a lot of effort into our engagement -- and came across as genuine and authentic which I was impressed by. He wrote me an inspiring personal message after the chat that I will cherish forever. He is one clever dude.
Alma mater: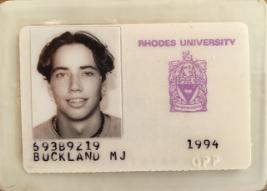 Matthew's Rhodes old student card from 1994.
Q: Do you still visit Rhodes/Grahamstown often?
MB: All the time. My parents live in Grahamstown and still lecture at Rhodes. We often visit for holidays and the Festival so our two little girls, Isabel and Stella, can visit their Gogo and "Agoo" (grandfather). Last time I was there I mountain-biked up Mountain Drive and it's my ambition to get into the top 10 Strava times for that stretch!! You may also catch me at Champs playing pool!
Q: Your younger brother, Daniel Buckland and parents, Janet and Andrew Buckland are deeply rooted in the drama industry, what made you decide to go into journalism instead?
MB: I have always enjoyed writing and had a vision of being a correspondent trekking through Africa, which I abandoned about 15 years ago. At the initial induction lectures in first year I remember being inspired by the journalism and philosophy talks, so decided to give both those subjects a try. Believe it or not I once acted in a play during festival, but I don't think I was very good… nowhere near the unbelievable talent of my younger brother and parents!
Q: What do you feel is the most important thing Rhodes JMS can teach?
MB: Strong practical skills, with a theoretical and historical grounding, with a multidisciplinary approach… exactly what Rhodes JMS is well-known for, and what makes it the top journalism degree in the country. I'd encourage JMS to actively maintain and encourage strong international links with other similar world-class university faculties overseas. I felt that I received a truly world-class tuition at Rhodes JMS – and am grateful for that. I would hope the university teaches that both an entrepreneurial and corporate path are viable options after graduation. I found it was good to
experience corporate life to establish myself in the industry, create a network, build my personal confidence, and learn, and then embark on an entrepreneurial pursuit later – but there is no prescriptive way to do it, every path is valid. I've noticed we are beginning to employ many Rhodes Journalism graduates to work on the agency side of the business (as opposed to media side), mainly to create content for brands on social media – that's an entirely new type of content platform and skillset operating in the brand space of "owned media".
Q: What's your advice for students wanting to go into the media industry and/or become entrepreneurs?
MB: There is no secret to being a successful entrepreneur. Just hard work and persistence. Probably the best advice I have for those wanting to start their own thing is: stop over-analysing and just do it... your idea will evolve and your business will adapt as you go along. You don't have to be top of the class or have the best idea in the world to start a business, but what you need is a strong resolve, perseverance, persistence and a never-give-up attitude. That is what makes an entrepreneur. It's a road filled with many challenges and lots of doubts, so you need to be strong-willed to succeed. There will be a thousand failures and setbacks, but it's the one hundred successes out of the thousand failures that move you forward.
Q: Would you send your kids to Rhodes? (no pressure to say yes...)
MB: I would love to as Rhodes has been a multi-generational affair in our family involving my great grandparents! I count my experience at Rhodes as one of the best in my life and would want my kids to experience that to. It is one of the options, together with some overseas options. It will be their call ultimately.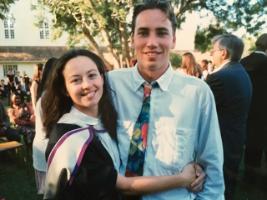 Matthew and his now wife, Bridget, met at Rhodes.
Source:Rhodes JMS