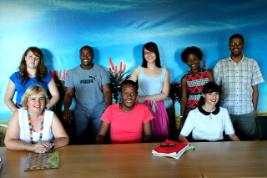 Rhodes > JMS > Latest News
Meet the new MA students
Date Released:
Mon, 10 February 2014 12:29 +0200
A warm welcome to our new Masters students at the School of Journalism and Media Studies! We would like to introduce you to the special eight students who will be stepping into the research programme:
Lauren Rawlins: "I missed studying and I'm interested in the dynamics and not just the craft of journalism."
Lauren is a Durban girl doing the part-time MA course. She is currently working at The Mercury in Durban as a reporter, writing stories and taking photographs. She completed her Bachelor of Journalism at Rhodes, specialising in photojournalism.
Kayla Roux: "I really want to carry on in academia and really enjoy being here."
This Johannesburger returned to Rhodes after completing her media studies Honours, as a full-time MA student and Grocott's Mail online editor. She is also the New Media Teaching Assistant, working with the fourth year BJourn students specialising in new media.
Martha Soteriades: "I'm interested in learning, not only to pursue a higher degree but also to increase my understanding of the media."
Martha came to Rhodes University from Johannesburg to complete a BJourn degree specialising in Design. Martha is currently doing the MA course full-time as well as working for Grocott's Mail as a sub-editor. She is hoping to also pursue a PhD degree at the School of Journalism and Media Studies after completing masters.
Mfundiso Miya: "My interests lie in writing and I want to learn how to write better."
Mfundiso is doing the full-time MA course after studying Culture, Communication and Media Studies at the University of KwaZulu-Natal in Durban. She is excited to explore Rhodes and become part of the Rhodes University student community.
Meli Ncube: "I wanted to study at one of the best journalism schools in the country."

A full-time masters student from Zimbabwe has joined the team! Meli did his honours course in media studies theory and practice, at the University of Cape Town. He is thinking of completing his PhD at the University of Witwatersrand after his masters at Rhodes.
Shamiel Adams: "Rhodes has a better environment to focus on studies and I'm excited to study again."

Shamiel is a full-time MA student who was in the education system before entering the course. He is also interested in doing a PhD after masters and continuing in the academic world.
Welcome Lishivha: "...Because Rhodes is the best for journalism studies..."

Welcome finished his honours degree in journalism at Wits and decided it is time for a change by pursuing the MA course at Rhodes University.
Cathy Gush: "I'm interested in the convergence between media and literature."
Cathy is doing the production masters course part-time to give her a foundation of journalism and media studies. She did a bachelor of social science for her undergrad and currently works as a co-ordinator at the literature programme at the Lebone Centre in Grahamstown. She hopes to pursue a project that can look at the relationship between the media and children's literature in particular.
Hancu Louw (not pictured) is also doing the production masters and is a Mellon-funded student in the Media and Citizenship project.
Source:Ettione Ferreira