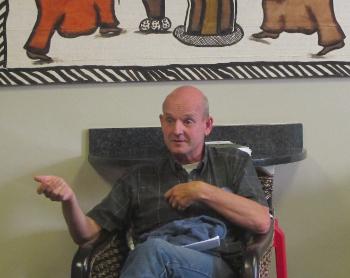 Rhodes > JMS > Latest News
Mellon visitor on Afrikaner identity
Date Released:
Wed, 6 November 2013 07:59 +0200
On Tuesday morning Yves Vanderhaegen presented a research seminar at the School of Journalism and Media Studies at Rhodes University. His presentation, "Reclaiming a legitimacy of Afrikaner human-ness through 'grievability' in Beeld", is based on his PhD research at UKZN.
Vanderhaegen, former deputy editor of the Witness, was visiting the School as a guest of the Mellon project on media and citizenship from Friday to Tuesday this week. On Friday he met with the Mellon project and fellow researchers in the School to speak about their various research projects.
On Monday he spoke about "Community texture and translation: The Witness, a personal story, Haffajee, City Press and ukuthwala" where he spoke about among other things the question of language and culture in newspapers.
He tackled the question of language with reference to Antjie Krog's problem with language and translation in South Africa. Krog said that translation is neither respected, nor made a priority in South Africa, with the result that we don't know how we sound. "No one cares about what people in indigenous languages are saying."
Vanderhaegen brought this back to the custom of ukuthwala, a "social trend" that in newspapers has been "presented as a crime". Vanderhaegen did not seek to defend ukuthwala, but questioned whether the subtleties and nuances of customs are represented accurately in newspapers. He spoke about the consequences of interpretation.
Following on this trend of language and culture, on Tuesday he spoke about self-othering and identity construction among Afrikaners (in itself a contested term) in Beeld newspaper. He started off by asking, "Why bother learning about Afrikaners?" and "Who are the people?" He sought to answer his questions and more in his presentation to Rhodes Journalism staff members.
What follows below is the 24-minute recording of his presentation, "Reclaiming a legitimacy of Afrikaner human-ness through 'grievability' in Beeld".
Source:Seminar