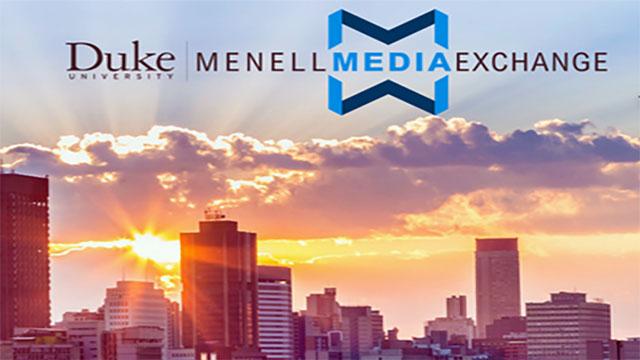 Rhodes > JMS > Latest News
Menell Media Exchange: Taking to the top
Date Released:
Thu, 21 June 2018 12:12 +0200
By Sam Spiller
Organized by Duke University and hosted by the Forum, The Menell Media Exchange of 2018 took place between the eighth and ninth of April in Bryanston, Johannesburg. The Exchange served as a gathering and showcase for media practitioners, both professional and personal, to share ideas and engage in critical debate about the state of journalism in South Africa, and the world at large.
The exchange boasted an extensive schedule of speakers and panelists, ranging from corporate entities with the likes of YouTube, oversight organizations such as Media Monitoring Africa, state entities such as the US Embassy and UK Consulate, media outlets such as Tiso Blackstar and News24, to a diverse collective of working individuals. With a planned timetable allowing for concise time allocation, multiple topics were explored in a series of one-hour workshops and discussions, leading up the keynote speech by CCN Political Reporter, Betsy Klein, as well as the keynote panel that focused on the upcoming National Elections in 2019.
The key strength of the Menell Exchange lies with the people that attend it. It is all very well and good to invite a selection of notable individuals and brands to introduce their products and working practices to those in the same respective fields, but it is how those same people respond and critically engage with what is being presented that matters. South African media has exponentially grown in influence and might since the end of the repressive Apartheid regime in 1994, a time when South African media was subject to severe censorship and prevention of self-development. However, from these dark times comes a great desire to change and improve the local media landscape. That desire is reflected in the exchange's delegation. The workshops on the first day were diverse content, with notable sessions giving insight into topics such as data journalism, consulate correspondence, video journalism, and health journalism, specifically techniques on how to report on concerning issues such as HIV/AIDS and Tuberculosis.
During the course of the second day, the delegation was audience to a series of mini-speeches from a variety of representatives from state, corporate and non-profit entities, each highlighting a particular aspect or division of local media. Overseeing all of these as Master of Ceremonies was Imam Rappetti, a prominent South Africa journalist who is well known for her work with ENCA, and who now hosts a show on Gauteng-based radio station, Power FM. Rappetti proved to be a successful and popular host, inspiring the audience and giving appropriate attention to the speakers and their respective organizations. The speakers meanwhile gave valuable insight into their work, most notably those that focus on the upliftment of black and female professionals in the workplace.
Without predicting what the implications of the exchange will be, it is sufficient to state that a collective understanding of what journalism in South Africa should look like, is present in the operations and functions of both media individuals and entities. The Menell Media Exchange continues to serve a prominent convergence and social point for this collective, and one that I am deeply humbled to be a part of.
Source:Rhodes JMS