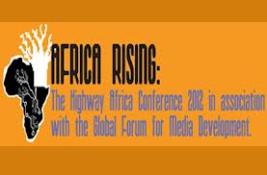 Rhodes > JMS > Latest News
Highway Africa & Grocott's Mail - Always On and On the Move
Date Released:
Mon, 10 September 2012 15:37 +0200
The collaboration has produced a mobile internet website (mobi site) that will be used for the first time at this year's HA conference. The site is called HANow and will be launched by site Coordinator Michael Salzwadel a few days before the start of the conference.
"The site is built on NikaNow, it is a platform that was developed here at Grocotts to enable community publishers or similar organisations to establish their own localized mobi sites", said Salzwadel.
The benefits of the mobi site are endless. Through the system delegates will be able to access the latest conference news. They will also have convenient access to the programme, webcams, currency rate converters, local weather; conference related tweets and the site will also contain specials provided by local businesses. Another important feature is that at the end of the event, delegates will be able to leave comments which can be responded to by the organizer of HA.
Conference director Chris Kabwato said that he hoped that HANow will allow the organizing team to deliver any news about the event in real time to the delegates and respond to questions that arise.
"HANow is a great information tool. It is frustrating at conferences when you don't know what is going on, that is why you cannot over-communicate ", said Kabwato.
The HANow site is in line with HA objectives of applying technological innovations to the media. "Highway Africa is an event based on new media. We need to showcase the way that we can utelise the internet and mobile communication. Secondly, the conference must begin to engage with its primary constituency and listen to the conversations they are having so that each year the event is improved", said kabwato.
Anele Ngwenya the HA media coordinator said that HA the mobile site will guide delegates as they navigate the conference by providing information about different events. "Basically HANow is a way to involve delegates, so that they do not feel estranged'.
Kabwato and Ngwenya stressed the generous donation that was made by MTN that enabled the conference mobi site to be developed. MTN will also make it easy for all the delegates to connect to the site by providing sim cards that will enable immediate use of the system.
The site address is http://hanow.co.za/
Source: