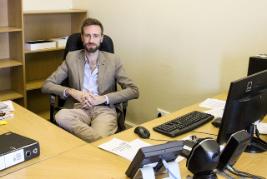 Rhodes > JMS > Latest News
Economics goes back to the people with new SARBCEJ director Ryan Hancocks
Date Released:
Mon, 29 February 2016 12:18 +0200
By Ettioné Ferreira
Ryan Lee Hancocks new SARBCEJ Director feels his "mission at SARBCEJ", as he puts it, is to instil a passion for economics. "I believe that if you're a functioning human being in today's society then you already understand economics. Economics is a social science in a sense and I would like journalists to know what they're writing about," he explains. Ryan feels that economics journalism should teach journalists how to write about economics in a way that everyone, even those who know nothing about the economy, can understand. "Sometimes I read articles and even with my masters degree I have no idea what they're saying," Ryan says, "it's about journalists taking their education back to the people who don't understand. I want them to start opening up debates and get people to start asking questions about things like tax, budgets, etc."
Ryan grew up in Port Elizabeth and did his Bachelor of Economics and Honours in Economics between 2002 and 2005 at Rhodes University. During his time at Rhodes he entered student politics, becoming SRC treasurer in 2003 and 2004. He was always a hard worker making it onto the Dean's list in his undergrad degree.
During his time at Rhodes University, Unilever selected him as one of the top five students in economics and offered him an internship. He became Demand Planner at Unilever straight after university in December 2005 and worked in the position until early 2008. Ryan decided to further his studies after his experience at Unilever and did a Masters in Economics between 2008 and 2010. "It was different to go from working and then coming back to studying so I just treated it like it was a business and it worked out well for me," Ryan says.
When he finished in 2010 he was offered a scholarship with CEJA (now SARBCEJ) to do a Post Graduate Diploma in Economics Journalism, "I always enjoyed writing so it was quite a nice space to be in," he says.
After finishing at Rhodes in 2011, he started at MSCI Inc in Cape Town, working as Associate Risk and Portfolio Management Analyst. However, he felt limited in the position and says, "It was a very regulated sphere and I felt the industry was a bit soulless."
After two years he moved to Media24 when he was headhunted for a position in their distribution and logistics division, On The Dot. Here he worked as the Operations Manager for Digital from 2014 until he got the Director of SARBCEJ post. "I loved my job at Media24 and wouldn't have left it for anything other than the Director of SARBCEJ post. My best memories are at Rhodes and I have always been spouting out propaganda about Rhodes to everyone," Ryan says excitedly.
Ryan is currently teaching the PGDip in Economics Journalism as well as Masters with an Economics Journalism specialisation. For more information on these courses you can contact the post graduate coordinator, Siphokazi Maneli, s.maneli@ru.ac.za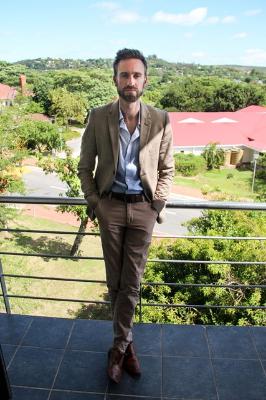 Source:Rhodes JMS