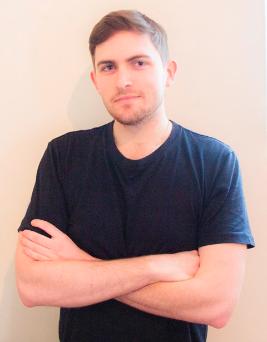 Rhodes > JMS > Latest News
Alumnus, Nick Mulgrew: literary writer, musician, journalist.
Date Released:
Tue, 5 August 2014 09:25 +0200
By Ettioné Ferreira
Nick Mulgrew recently won the silver special merit award in the BASA Arts Journalism awards awarded during this year's National Arts Festival* for his feature "Vida loves you" which was published in Prufrock Magazine. This however is not the only award he won during the Arts Festival this year. His story "Turning" received the title of Best Story in the National Arts Festival Short.Sharp.Stories Awards. Another of his short stories, "Ponta do Ouro" (from the short stories book: Feast, Famine, Potluck) was long-listed for the Twentyin20 project earlier this year showing that he is definitively grabbing attention in the literary world.
Mulgrew has been interested in writing since the tender age of 10 years, "When I realised I wasn't strong enough to be a sportsman or smart enough to be a videogame designer or cool enough to be a full-time musician," he says. In matric he won a scholarship to attend Rhodes University and decided to the journalism degree to learn how to incorporate writing into a stable career.
He soon made his mark in first year as a writer when winning a slab of chocolate in a competition for the best blog in the first year JMS class. He now blogs at www.nickmulgrew.tumblr.com from time to time, to keep his presence in the blogosphere.
During his time at university, when he was not busy writing or working on his academics, he played in a two-man folk band called, Life of Riley, with another JMS alumnus, Terri Lockhart (née Adendorff). They released an album in 2011 called, The Golden Age of Us while also touring South Africa for a while. Mulgrew has however given up the music business for now as he works on his writing while Lockhart is starting to play shows again, "It's going to be cool to see what she comes up with," he says.
After graduating with a BA in 2010, he did an honours degree in media theory and practice at the University of Cape Town the following year. Then he started working as a creative director for the Shuttleworth Foundation's publishing start-up, Papertight. He is interested in doing an MA degree in English, focusing on non-fiction and journalism next year at UCT.
This year he worked at Cue as a sub-editor, "It was fantastic, Cue is a valuable project that I hope goes on for many years to come. There's an abundance of talent and energy in that newsroom, and it's satisfying to spot the students who you just know have it in them to become good journalists. The editors have access to a coffee machine too, and that makes everything better."
He misses the Africa Media Matrix which is "pretty fantastic" in his words and he also misses the people from the English and JMS departments as they provided a supportive atmosphere which he enjoyed. The story "Turning" which won the Short.Sharp.Stories award was inspired by his years in the small student town; "Without giving too much away, it's mostly about sex, undergraduate linguistics, homophobia and Grahamstown winters," he explains. The story can be found in a collection of short stories called Adults Only, released by Mercury publishers.
Writing is not always easy as he struggles with a readership, "South Africa isn't abounding with a lot of readers – due to historical and structural reasons – but is blessed with riches of excellent writers… it's easy to get discouraged," he says. However he feels the atmosphere can change by writing and trying to change the accessibility of literature. These struggles are only a minor factor in the writing business today. Mulgrew says he enjoys the freedom to do what he wants on his own time and the freedom to only do the projects he truly enjoys. However, this freedom might not last forever but he tries to enjoy the good parts of freelancing while he can.
Mulgrew does not identify with being either a journalist or a literature writer, "I see myself just as writer, although I do think that even that sounds a bit pretentious. Sometimes I write journalism. Sometimes short stories. Sometimes poems. Sometimes other things entirely. Sometimes I turn my hand to design. "Literature" implies some sort of acceptance into the canon of what's good and what's valuable, so I wouldn't say I work in literature, other than hopefully being a student of it."
You can find more of his work on http://nickmulgrew.co.za/
*see article "Rhodes Alumni win at BASA Arts Journ Awards" for more on the awards http://www.ru.ac.za/jms/jmsnews/basaartsjournawards2014.html
Photo: Supplied
Source:Ettione Ferreira