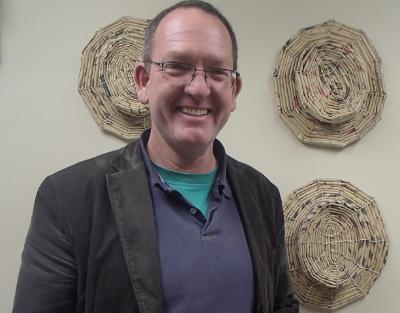 Rhodes > JMS > Latest News
Over the covers with Luke Alfred
Date Released:
Fri, 13 September 2013 10:55 +0200
By Annetjie van Wynegaard
The 1979 Soviet invasion of Afghanistan saw 65 countries boycott the 1980 Moscow Olympics. Zimbabwe had just gained independence, and sent a women's hockey team to the thinned out fields. The team was assembled one week before the games began. Zimbabwe defeated Austria, India, Poland, Czechoslovakia, and sure winner USSR for the gold medal. This is one of the great unwritten stories of Africa, says Luke Alfred, prominent South African sports journalist and media consultant for Cricket South Africa (CSA). Alfred joined the School of Journalism and Media Studies this week as a guest teacher.
Is there room for creativity in sports writing? Alfred thinks so. He has an expanded definition of sports journalism. The purpose of journalism, he says, is to inform, entertain, and to be read. "You don't want to write in such a boring way that the reader doesn't make it to the end of your story."
Alfred guided students in the fourth year creative non-fiction intensive course on Monday and Tuesday, offered a week-long enrichment course in sports journalism, and spent time with journalists from Grocott's Mail and Port Elizabeth-based newspapers the Herald and Zithethele on Friday.
What makes a good sports journalist? "Curiosity. Love of the written word. A desire to speak truth to power. The ability to inspire and entertain through your writing."
Alfred, a sports journalist for 18 years, was the sports editor and senior cricket writer at the Sunday Times in Johannesburg. He has written three books about cricket, Lifting the Covers: The Inside Story of SA Cricket, Testing Times: The Men Who Made South African Cricket, and his latest book, The Art of Losing: Why the Proteas Choke at the Cricket World Cup, which caused great controversy in the cricket community.
Alfred says the outrage sparked by his book has shown him that we are not yet ready to have a debate about our failings. "We need to confront our weaknesses," he says. How did he handle the criticism? "You have to develop a thick skin."
This week he engaged students with texts by British Chelsea Football Club writer Giles Smith and American essayist 93-year-old Roger Angell. Alfred says Angell's "The Silence" is a "beautiful, lyrical piece of sports writing".
What does he hope students took away from his teachings? "I hope they're a bit more savvy, I hope I gave them a snapshot of the industry. I hope I inspired them a little bit."
Source: