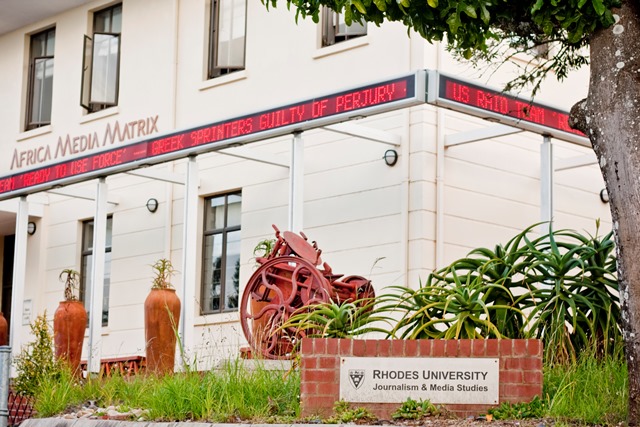 Rhodes > JMS > Latest News
Four prestigious PhD/PostDoc scholarships available. Apply now.
Date Released:
Fri, 22 February 2019 15:01 +0200
The School of Journalism and Media Studies would like to invite driven, research interested candidates to apply for PhD and post-doctoral scholarships in the department. We are running two research-driven projects, and invite interested parties to apply for funding. We are looking for exceptional students committed to a research career who have demonstrated critical thinking in their approach to previous study. Black South African and women candidates are urged to apply – and preference will be given to historically disadvantaged individuals.
Applications for all programmes must include:
The candidate's CV
Academic transcripts
Motivation for the area of study (no longer than one page)
THE PROGRAMMES:
Mellon Media and Sociality Programme:
The key question of the study programme is: What kinds of sociality are constituted by different forms of media and how do these (forms of sociality) speak to issues of social belonging and calls for social change? Our programme is framed by historical ways of being and belonging, and how these were transformed through colonialism. The foci of the programme are Coloniality, Digitality and Sociality and the interconnections between them. The project is funded by the Mellon Foundation and runs throughout the postgraduate programme.
Scholarships are available for:
Two PhD candidates: R125 000 for three years
One post-doc candidate: R200 000 for one year (renewable)
Inquiries and applications must be sent to Prof Lynette Steenveld at l.steenveld@ru.ac.za
NRF "Licence to Talk" Project:
This study has two focuses: Firstly to ascertain the shifts and ruptures in what is said and what is sayable in the South African public sphere at this present moment in our post-apartheid history. To discern underlying regimes of truth and assess how these are being challenged and changed by a new generation of activists and intellectuals who are stepping into the public domain. Secondly, the study seeks to assess whether listening theory offers new practices for those conducting public debates, discussions and engagements, whether they be face to face encounters, via the media or on social media.
A scholarship is available for one doctoral student in the NRF-funded Licence to Talk project at R120 000 for three years:
Inquiries and applications must be sent to Prof Anthea Garman at a.garman@ru.ac.za
Source:JMS