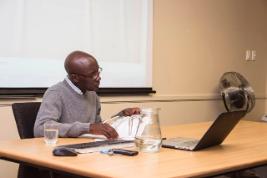 Rhodes > JMS > Latest News
This Photoshop nonsense must stop!
Date Released:
Thu, 26 February 2015 11:43 +0200
by Ettioné Ferreira
Photoshopped images for political commentary are becoming increasingly popular throughout social media and a study from Ghana shows that that Photoshop images used satirically, are unique but also fall under an old practice alongside newspaper cartoons.
"This Photoshop nonsense must stop: mediation of partisan political sensibilities in Ghana's fourth republic' was the title of Joseph Oduro-Frimpong's research seminar on Tuesday 27 February 2015 at the AMM.‌
According to Oduro-Frimpong, Ghanaian citizens use Photoshop to express their views on national issues like corruption and the current energy crisis. "This form of political engagement not only visually documents key socio-political issues but also mobilises new political publics, most of whom are not formally literate but very astute with digital media use," Oduro-Frimpong said.
‌‌
He feels that cartoons and Photoshopped images have the same political and religious impact as satire which plays a big role in commentary on serious issues. Cartoons still have an effect, as shown for example through the unfortunate incident at Charlie Hebdo and the ongoing legal battle between President Zuma and Zapiro, "here, it is very instructive that media studies expands its ambit to include popular media genres and thus begin to pay critical attention to informal formats," he said.

One of Zapiro's 'showerhead' cartoons commenting on Pres. Zuma Copyright: Mail & Guardian
Oduro-Frimpong is from Ashesi University College, a non-profit, private and liberal arts institution in the eastern region of Ghana. He is doing his post-doctorate in the Department of Arts and Sciences. He came to Rhodes as part of the African Humanities Program postgraduate fellowship, supported by the Carnegie Foundation "My specific choice of Rhodes University was based on several factors: high reputation of the faculty as well as the calibre and impact of your research, the available resources that are very conducive for research, the cross-disciplinary approach to learning, the quality of student-faculty interaction/mentoring, and the unique, serene environment of Grahamstown," he said.
Oduro-Frimpong commented on South Africa's high investment in higher education and said:"Such an investment, for me, is important since it has a key bearing on the quality of leaders that is needed for Africa."
Oduro-Frimpong is a media anthropologist and makes use of an ethnographic approach to investigate popular media phenomena. "I am particularly interested in teasing out how such popular visual/aural formats (re)mediate intangible cultural ideas and beliefs, as well as engage with alternative socio-political issues," he said. Some of his work has appeared in the International Journal of Communication, African Studies Review, Encyclopedia of Social Movement Media, and the edited volume Popular Culture in Africa: Episteme of the Everyday.
He will be spending 12 weeks at Rhodes returning to Ghana on 20 April. "Do I like South Africa? Well, Grahamstown is the only place I have known in South Africa and on the strength of this current experience, I will have to admit that 'I'm lovin' it'…"
You can catch a glimpse of Joseph Oduro-Frimpong's favourite cartoons at the exhibition "This Cartoon is a Satire" which will run for two weeks at the Rhodes Library from 3 March.
‌

"Complainant who stormed court granted bail"
‌
Source:Rhodes JMS