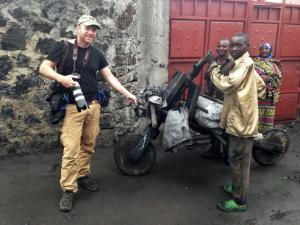 Rhodes > JMS > Latest News
Picture of the Year award for JMS graduate
Date Released:
Thu, 13 March 2014 18:58 +0200
by Ettione Ferreira
JMS graduate James Oatway has won second place in this year's News Photographer of the Year Award at the prestigious Pictures of the Year International (POYi).
You might recognise his name from photograph captions in The Sunday Times, where he has been working as photographer for the past seven years. He has also worked at The Star, Die Burger, This Day and City Press. "I have photographed train surfers in Soweto, bare-knuckle boxers in Venda, conflict in Gaza and Afghanistan, xenophobia in Johannesburg, the catastrophic earthquake in Haiti and many facets of life in South Africa," Oatway says.
Oatway got interested in photography at about the age of nine. Living in Phalaborwa he made frequent visits to the Kruger National Park, where his models ranged from warthogs to giraffes and elephants.
After matriculating he decided to go into journalism and started studying for a BJourn at Rhodes in 1996. At Rhodes he was lectured by the late- Monty Cooper who taught students to shoot on black and white film which were all hand printed and processed, "I really enjoyed those many hours spent in the darkroom," he said.
After graduating he completed an internship at The Star newspaper in Johannesburg and after meeting Nelson Mandela he was inspired to become a professional photojournalist.
Oatway says, "In the South African media industry, photojournalists are often viewed not as journalists but merely technicians, or assistants to reporters. I really hope that we can move away from this old-fashioned mindset."
For POYi this year Oatway entered a portfolio of 50 images on different topics. His photos ranged from Oscar Pistorius' first day in court to the war in the Democratic Republic of the Congo. For these photos he won second place as Newspaper Photographer of the Year. He also came second in the category News Picture Story of the Year which was for his photo story on the war between the Congolese Army and M23 Rebels in the DRC.
"I was really happy to be placed second in the Newspaper Photographer of the Year Award. The industry is highly competitive and to be ranked among photographers from well-known international publications feels really good. I'm also very proud to represent South African photojournalism on this world stage. We have a rich history in photojournalism and it is often overlooked," he said.
To see the award winning photographs visit the POYi website, http://www.poyi.org/71/37/second_01.php and http://www.poyi.org/71/09/second_01.php
James Oatway also has more information and photographs on his personal website, www.jamesoatway.com
Photograph: Supplied
Source:Ettione Ferreira