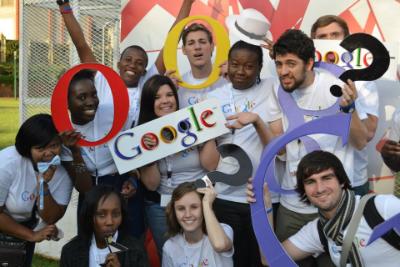 Rhodes > JMS > Latest News
Rhodes ambassadors for Google
Date Released:
Mon, 29 July 2013 08:16 +0200
‌Christina Sukop, a fourth year New Media student in the School of Journalism and Media Studies, and Lethabo Ntshudisane, a third year Bachelor of Social Science student majoring in Information Systems, Industrial Sociology and Economics, have been selected from over 5 million applicants worldwide to be two of 660 Google ambassadors. They recently returned from Nairobi in Kenya where they attended a summit for Google ambassadors in sub-Saharan Africa from 2 to 6 July.
There are 130 Google Africa ambassadors and 17 are from South Africa. Christina and Lethabo will act as liaisons between Google and Rhodes University students. Their job description includes: learning about innovation Google products and programmes, planning and hosting events on their campus, acting as campus contacts for Google teams, and helping Google gain a better understand of the university's culture.
During the summit the ambassadors had nine hours of sleep in four days. Google kept them up and going with training, night-time events, and Google challenges during which students were signed up into teams according to their countries and completed multimedia tasks. Christina says the SA team bonded, were quick to get together and had "good teamwork going". The South African team won the Google challenge and $3000. Their moon-shot video, an inspiring and unique movie clip, is a tribute to Nelson Mandela and can be viewed here.
On the last night Google held a gala evening for the ambassadors, and each team dressed in their "native attire". Christina says it was great to see people from places like Ghana and Cort'de Voir in clothes from their countries.
Christina says when she graduates from Rhodes she would like to travel, and after that she'd like to enter the CYCO programme, the Google Connect Your Community Online initiative which provides technology to communities that engage in local content and discussions. Christina would like to open her own school some day in rural Eastern Cape, and use CYCO to connect rural communities to resources. During her gap year in 2009 she taught English and Afrikaans at a rural school in Coffee Bay, and each year she goes back to volunteer.
Lethabo says he is "excited and a bit nervous" about being a Google student ambassador, because he loves Google products and technology, and this is a "major opportunity" for him, one that comes with big responsibilities. Lethabo says he hopes to "one day establish and be part of a South African company which will aid the increase of innovation in the Information and Technology industry".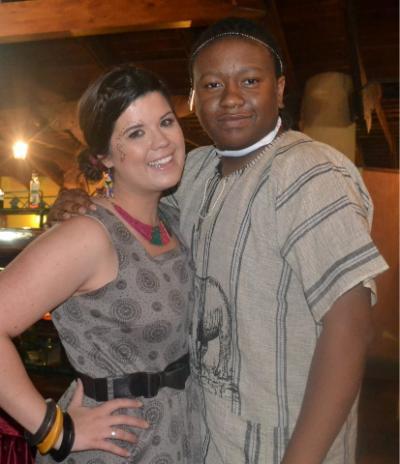 Photographs supplied by Christina Sukop.
Photograph 1: Christina Sukop and Lethabo Ntshudisane with their fellow Google ambassador teammates. Christina and Lethabo are in the centre holding the Google sign.
Photograph 2: Christina and Lethabo in their "native South African attire" at the Google gala evening for Google student ambassadors in Nairobi, Kenya.
Source: