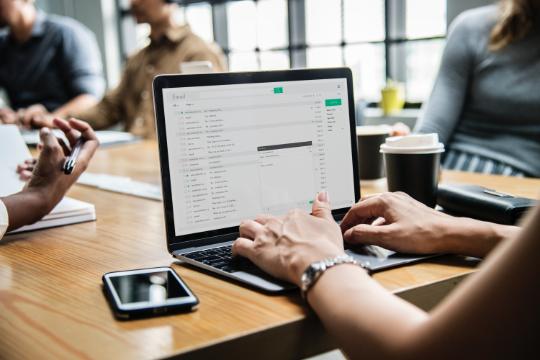 Rhodes > JMS > Latest News
Rhodes JMS gears up to host Africa's pioneer Digital Research Methods Symposium
Date Released:
Tue, 4 June 2019 08:14 +0200
This week, the Rhodes University School of Journalism and Media Studies will be hosting the very first African Digital Media Research Methods Symposium in June. The three-day symposium aims to find new ways of addressing the digital media research challenges in the African context and will include global and African leaders in the field.
There are many pressing questions related to digital media research across the globe. Most digital media research methods are geared towards the Global North and not always appropriate for the African context. The symposium will gather academics and post-graduate students for the purpose of sharing emerging trends in digital media research in terms of methodological approaches, while also trying to re-imagine how these global approaches can be translated for the African context. The symposium will work towards ways of supporting opportunities for publication and international cooperation.
Digital media is everywhere, and mainstream media has all moved online, explains Dr Alette Schoon, a Senior Lecturer in Digital Media at Rhodes University's School of Journalism and Media Studies. "There is a trend for social practices that used to be private, to increasingly become mediatized – friendship, flirting, even funerals happen online too now - It's really important for media researchers to make sense of this, but where do you start?" The methods are changing rapidly as technology companies change their protocols for access to data, she says.
The key focus of the symposium is on figuring out ways to study digital media that work in the African continent. Therefore, the challenge is posed to global leaders in the field to devise research methods for contexts where one cannot assume always-on, always-connected users exposed to streaming media. Instead, methods are needed that also include users who are only online sometime and spend short bursts of times sending and receiving mostly text-based info and must be based around zero-rated data sites and services.
"Digital media research methods need to be adapted to work for societies that are at once deeply unequal, subject to technological and infrastructural challenges, highly vibrant culturally, diverse linguistically, and predominantly young," Schoon explains. During the symposium, researchers will delve into the challenges and opportunities presented by the dynamic African media landscape.
The symposium will take place in the Africa Media Matrix Building, home of the School of Journalism and Media Studies at Rhodes University. The symposium will appeal to researchers of digital media, including postgraduate students.
The three-day symposium will take place from 5 -June 2019, starting at 5pm on Wednesday 5 June with a keynote by Prof Jean Burgess, who is head of the Digital Media Research Methods Centre at Queensland University of Technology (QUT) and author of many books on digital and social media, including the recent YouTube: Online Video and Participatory Culture (2018), followed by a welcoming event. The Thursday is filled with several talks by visiting scholars as well as local academics and students, while Friday features a number of hands-on workshop where participants will learn and debate actual methods. The symposium ends on the evening of Friday 7 May with a session exploring opportunities for research, publication and international collaboration, followed by a cocktail party.
For the full programme and more information about the speakers, visit digitalmethods.ru.ac.za
If you will be joining us for the Symposium, remember to tag Rhodes JMS on Facebook, follow us on Twitter and use the hashtag #DigiMethodsRU
Words by Lindiwe Tsobo
Source:School of journalism and Media Studies