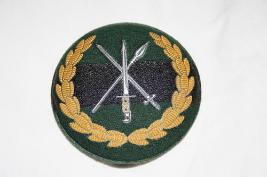 Rhodes > JMS > Latest News
SA Infantry Formation Visits JMS
Date Released:
Tue, 18 September 2012 16:37 +0200
The visit was initiated by final year Radio student Nadia Moore whose project on women in the military opened up doors of communication with 6 SAI, as well as Media Law Lecturer, Strato Copteros, who both presented at the SA Infantry Formation workshop – inspiring participants to visit AMM and witness the facilities and teaching practices for themselves.
The group discussion at AMM centered around the communicator's evolved function in the modern SANDF and the role that JMS could play in assisting those tasked with it. At the same time, 6SAI, the First City Regiment and JMS are all strong Grahamstown institutions who are an integral part of the town's community; and the opportunity to get to know each other and explore potential collaboration was both much needed, and well taken!
Source: