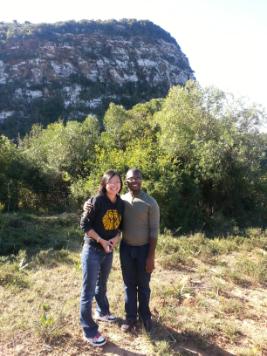 Rhodes > JMS > Latest News
Sharing the spirit of journalism
Date Released:
Mon, 8 July 2013 08:15 +0200
When Mengyi Jenny Sun first stepped into the foyer of the African Media Matrix and saw the four television screens, she knew she wanted to work for Cue TV. One of the screens was showcasing student work, and Jenny was blown away by the quality of production. She joined the Cue TV team and since then she's covered three shows at the National Arts Festival, Zulu, Madonna of Excelsior, and Beautiful Creatures.
Jerome Campbell did his first live on-air radio interview ever for Cue Radio this year. Jerome has always wanted to study abroad, he even considered going to Paris, but his university professor challenged him to go somewhere different.
Jenny and Jerome came from the University of Southern California Annenberg for Communication and Journalism to hone their journalism skills at Cue Media this year. Eleven days have felt like a semester for these two American students, with highlights and challenges along the way.
Honing their skills
Cue Media is the hardest thing Jerome's ever done. "You go from nothing to something in only eleven days," he says. From the start he's had to juggle the culture and trying to write to a South African audience with producing quality radio shows. He's been impressed and intimidated by the group of radio students working for Cue Radio. "Their work is so polished and clean, I didn't think I could keep up with them," says Jerome. When he goes back to the US he wants to maintain the high standard of production he's learnt at Cue, where he's been pushed to see a "higher ceiling" than he thought was "possible for a student journalist".
Jenny said that working with a team has been a valuable process for her. "In the US, journalism is a one man band. You're encouraged to do everything by yourself." At Cue TV she's had the opportunity to learn from her peers, and work off each other's strengths. When she worked on the show Zulu, her teammate Dumisa was responsible, took her work seriously, and planned everything in advance. One hour before an interview she would make sure everything is secure. She also took the time to show Jenny each step, how to use the equipment, even the newsroom phone. In Madonna of Excelsior Jenny says her teammate Jacob was creative and produced good quality film. Jenny has grown and learnt a lot since she started a few days ago. "I was surprised after two stories how they train you so fast."
Language and culture
For Jerome language has been a struggle. His goals have been to say "hello" and "how are you?" in isiXhosa, and he's been practicing his clicks when preparing for interviews with isiXhosa speakers. He says "Umqombothi" and gets the click right first time. "For me, my family, every generation's been immigrants, it's important to me to understand the culture. It does you no good to try and be American in South Africa." Jerome has roots in the United Kingdom and Jamaica. He sees South Africa as a "great scope for looking at the world". It becomes a lens to view places you haven't seen before. Jerome says the perception of South Africa in the US is "just some place that exists on the other side of TV, Shakira's 'Waka waka'". But when he came here he started to understand South Africa and gained a holistic view of other cultures.
Jenny comes from Beijing, China, and has had to master two cultures in the past few years. She's travelled through Europe and Asia, but says, "I didn't know anything about South Africa." Festival's given Jenny a crash course on South African culture. "You start to learn about the culture in shows, about apartheid, the history of the country, what it means for people's identities."
Both students have been overwhelmed by the friendliness of South Africans, or what Jenny calls the "journalism spirit". Jenny says, "Here people share their time with you." She once walked from the Monument with heavy television equipment, when a man stopped and offered her a ride. One of her teammates, Jacob, noticed Jenny wasn't finding enough time to eat between editing in the small hours of the morning, and he started bringing her sandwiches every time he goes for lunch and dinner. Jerome says people go out of their way to be nice to him. It's been simple to make friends. "Every night I go out I meet someone new."
South African creativity
Jerome has been struck by the raw creativity he's experienced in South Africa. "In the US they try to teach you creativity, you learn how to brainstorm." You get a tool box of creativity to draw from, but he worries that the creativity becomes too manufactured. By contrast, creativity in South African performances comes from a raw place, personal experience and emotion, making it compelling and honest. "It challenged me to be creative from a more honest and raw place." When Jenny first went to America she was surprised that you could learn to be creative. In the US creativity is career orientated in a real news industry. You learn to be creative in accordance with audience and industry expectations. "Here (in SA) I feel so free, no one tries to force you into a box."
Then there's the downside of visiting a foreign country, going home. Jenny explains as she fights the tears, "The first day you get to know people, by the second day you really like South Africa, but then you get so attached, people are so nice, inspiring, welcoming. You get attached to the warm feeling and you don't want to go back. You try to stop yourself from loving it because you know you have to leave soon. I don't know what I'll feel when I leave soon."
Three words to describe their experience in South Africa?
"Inspiring, soulful, lekker!"
Photograph supplied by Jerome Campbell
Words by Annetjie van Wynegaard
Source: