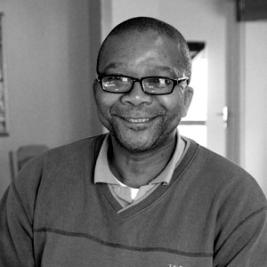 Rhodes > JMS > Latest News
Shepi Mati returns to Rhodes
Date Released:
Fri, 19 June 2015 12:30 +0200
By Ettioné Ferreira
During the apartheid years Rhodes University housed many anti-apartheid movements and activists. In the 1980s, Shepi Mati was one of the students involved in these movements and he continued the struggle long after his graduation in 1988. Now, 27 years later, he returns to his alma mater Rhodes JMS to share his expertise with the third-year radio students.
Mati, who was born in Port Elizabeth, also spent much of his childhood in Adelaide and Cape Town. "My family is descended from ancestors who had lived in an area called KwaMankazana. They were displaced from that area by the settlers and they eventually scattered across different Eastern Cape towns. Some settled in Cape Town and some in Port Elizabeth. I spent some years in schools in Cape Town and some in Port Elizabeth, while my early childhood was mostly in Adelaide," Mati says.
After graduating in 1988 with a B.Journ from Rhodes he struggled to get into the job market, being an activist didn't help because it placed a black mark against his name. Mati says, "It was challenging times. Nobody wanted to hire someone who was against the government. The SABC was the only provider of radio and they were run by the regime so it was impossible to get in with my background."
Source:Rhodes JMS