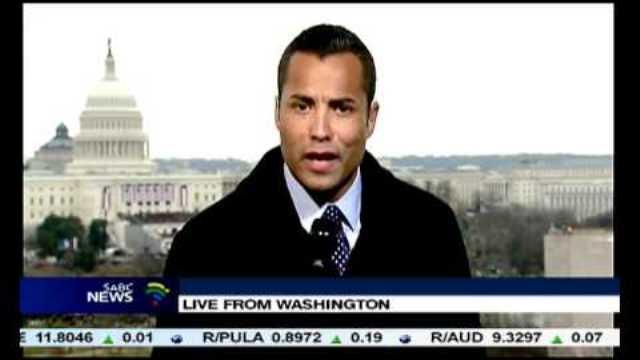 Rhodes > JMS > Latest News
JMS alumnus wins Emerging Old Rhodian award
Date Released:
Wed, 21 September 2016 09:18 +0200
By Ettioné Ferreira
Sherwin Bryce-Pease was recently announced as one of the recipients of the 2016 Emerging Old Rhodian Awards. Bryce-Pease graduated with a Bachelor of Journalism at the School in 2000. The award was presented at the luncheon that was hosted at Rhodes on 27 August 2016.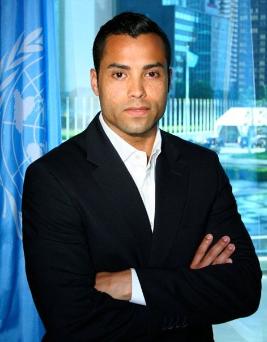 Bryce-Pease grew up in East London and came to Rhodes to study a journalism degree with addition subjects tweaking his interest in international affairs such as Politics and Economics.
After graduating Bryce-Pease was appointed as the International Communication's Liaison at the Rhodes Marketing and Communications division and travelled to the United States for six months to arrange fundraising and development. He was based in Palo Alto, California and New York at the Strategic Communications Offices.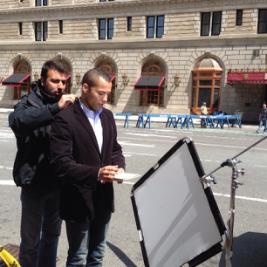 Sherwin Bryce-Pease prepares to go live from Boston after the Boston Marathon Bombing in 2013.
After leaving the job at Rhodes he started working at the SABC in Johannesburg. In 2008 when he returned to the United States, three months before Obama's historic election, he started working as the US Correspondent for SABC, which was also the highlight of his career, "It has come with a great deal of responsibility especially with a move later to include the running of our bureau at the United Nations. The job is multi-faceted, from global geo politics stories, the Security Council, domestic US politics, to red carpets and celebrities, and breaking news like when a jet landed in the Hudson River with over 100 passengers and crew aboard," he says.

Sherwin Bryce-Pease shaking Trevor Noah's hand on the set of The Daily Show during an interview for SABC News.
Bryce-Pease has interviewed many interesting individuals ranging from an interview with President Barack Obama at the White House, Trevor Noah at The Daily Show set to interviewing UN Secretary-General Ban Ki Moon. His job as international correspondent also takes him to different countries outside the United States such as Brazil, Cuba, Mexico, Switzerland, South Sudan, Ethiopia and Jamaica.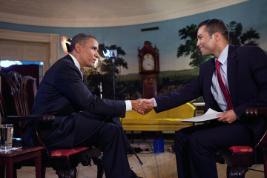 President Barack Obama shaking Sherwin Bryce-Pease's hand after his interview at the Whitehouse in 2010.
Running the SABC News offices at the UN Headquarters in Manhattan means dealing with technical issues and administration all whilst producing, writing and editing content for the broadcaster each day. Bryce-Pease also serve on the Executive Board of the UN Correspondent's Association and on the Board of the Dag Hammerskjold Fund for Journalists which provides fellowships to deserving journalists, to cover and visit the UN General Assembly in September and October each year. He says, "I love my job and am grateful for the opportunity it has afforded me. I feel very, very privileged. SABC News has placed a great deal of trust and responsibility in me and I'm better for it."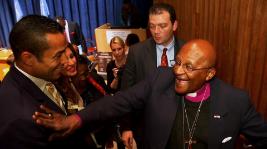 Archbishop Desmond Tutu and Sherwin Bryce-Pease at the United Nations.
As exciting as his job in America is, he still misses some special things from home, "I do miss South Africa and make a point of going home at least once a year. I miss my family's cooking. I miss having a braai with my mom's potato salad. I miss Durban-styled curry and the bunny-chow! Part of me also misses the excitement that comes with being a journalist in South Africa today. That said, I have nothing to complain about over here," he says.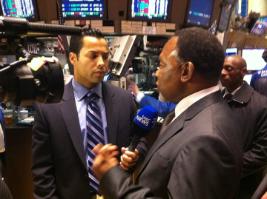 Sherwin interviewing Deputy President Kgalema Mothlante on the floor of the New York Stock Exchange.
His message for aspiring student journalists: "We live in an information society in a world that is vast. I often feel the news is consuming me and not the other way around. Put the gadgets away sometimes; explore more, travel. Yours is just one perspective. Work hard and set yourself apart. Make your stories memorable. It matters. In television and radio, attention to detail matters. Be a pain in the arse perfectionist but always be gracious and kind."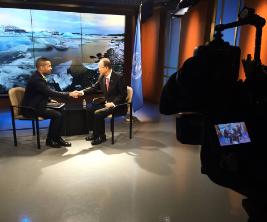 At the United Nations interviewing UN General Secretary Ban Ki Moon.
‌


Source:Rhodes JMS