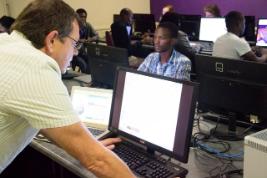 Rhodes > JMS > Latest News
Getting down to business with social media
Date Released:
Thu, 5 March 2015 10:53 +0200
by Ettione Ferreira
As social media becomes more prominent as a business model, the School of JMS has to incorporate the basics into courses.
On 27 February, the Makana Apps Factory hosted a Social Media Bootcamp for students and journalists in the AMM. Steve Kromberg, former Grocott's Mail general manager and lecturer of new media at the SPI, taught the ins and outs of social media and how to use it effectively.
Professor Lorenzo Dalvit, the MTN Chair of Media and Mobile Communication, made the bootcamp part of his course on mobile communication for the post graduates. Honours and Masters students were captivated by the bootcamp as it gave a business perspective to social media.
Kromberg covered issues such as using Facebook and Twitter in the business environment and communicating to specific audiences through the social media platforms.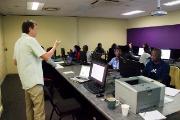 We asked some of the students what they thought of the bootcamp:
"It's not the first time I've heard these concepts as I did a new media module during my Media Management diploma at Sol Plaatje Institute last year. But it's a good course and I'm learning some new things." - Melinda Pinda (MA student)
"I learnt a lot about how audiences are targeted through new media methods. Social media can be very powerful as a customer service platform because people don't have to go to the shop to complain about a product but can post about it and get responses… and what we also see is it's not only a young person's phenomenon but older people also use new media." – Luke Willets (MA student)
"This bootcamp has informed me a lot about social networking and use of the internet. It is a really interesting course." – Natania Collopen (Hons student)
To read more about the social media bootcamps and Makana Apps Factory you can refer to our previous article "Flex your digital muscles"
Source:Rhodes JMS