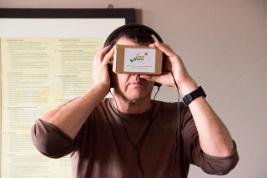 Rhodes > JMS > Latest News
Social Weaver brings Nafest into 360 view
Date Released:
Fri, 22 July 2016 10:47 +0200
By Ettione Ferreira
During this year's National Arts Festival between 30 June and 10 July 2016, Michael Salzwedel and Steve Kromberg from Social Weaver came to Grahamstown to give festival-goers a 360? view of the arts. They worked with Cue Online for the duration of the Festival, filming content for cuemedia.co.za and also hosted two workshops showing visitors how to use a Google cardboard and a 360? camera.
Social Weaver provides social media and mobile journalism training to media companies and NGO's across South Africa. Salzwedel and Kromberg explained that as a training company, Social Weaver decided to acquire the 360 camera a month ago, to stay atop the latest technology as companies such as Facebook and YouTube started to invest into virtual reality and 360 videos more and more. "We researched different cameras and found that many of them are tied into specific platforms, so we went for the Ricoh Theta S, which is controlled by a special app that can be installed on just about any smartphone," Salzwedel says.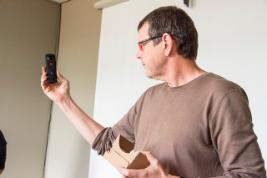 The Ricoh Theta S model is an entry-level 360? camera with a 180? lens on each side with accompanying software that stitches images together into a full 360? photo or video in just a few seconds. The video is full HD at 30 frames a second for a half an hour of footage. The stills photographs are 14 megapixels each with manual exposure, shutter speed, aperture and ISO functions. The camera has few drawbacks, "one of which is that because it shoots with two lenses, sometimes there is an unsightly join between the hemispheres which detracts from the viewing experience. Additionally, the microphone does not cope very well with very high volume situations, for example rock gigs during Festival," Kromberg says.
During the workshops hosted by Social Weaver, Kromberg and Salzwedel explained how a Google cardboard works. The Google cardboard was part of a project where staff members of Google can create their own devices as side projects, to further innovation and technology. The project was so successful that many other companies are using the design to create their own.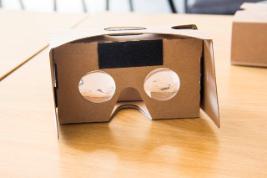 The cardboard gives ordinary people a chance to experience virtual reality at a more affordable price. Salzwedel says, "it's simply a headset made out of cardboard, with two plastic lenses and a slot for your smartphone. By splitting the image on your phone into two (one for the left eye and one for right), it gives the illusion of 3D perspective, and allows for a more immersive viewing experience."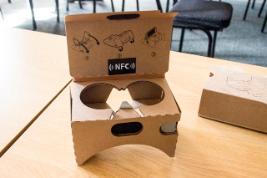 Kromberg and Salzwedel was involved in setting up the new website for Cue Online and decided to experiment with 360 at festival, "…we started thinking about how we could work with the Cue Online team to experiment with new ideas and content at Festival. We recently acquired the Ricoh camera and thought that it could be put to good use at Festival in various settings, such as shows, exhibitions and outdoor performances," Kromberg says. They used the chance to also teach the digital media students about the latest technology which will change the way journalists report. Live streaming has become one of the best features of 360? video according to the Social Weaver team, "Earlier this year YouTube broadcasted the first live 360? video stream from the Coachella music festival which proved to be a fascinating, life-like way of experiencing the music. It really turns viewers into participants," Salzwedel says.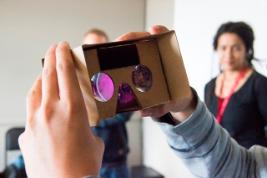 Some of the shows stood out to the team, "The Fishwives gig was a lot of fun but we came dangerously close to having unusable audio," Kromberg says. Salzwedel continues, "Rob van Vuuren's Sugarbush worked well, as did Butterfly Dreams because there was a lot of colour, movement and interaction with people in the audience. We filmed the Fabric of the Universe exhibition, which lent itself well to the medium of 360."
In news, a possible challenge is the number of ethical issues to take into consideration when broadcasting live in 360. According to Kromberg and Salzwedel, it takes more thought and skill to create content, "rather than just immerse the participant into the scene and leave them to figure out the context and meaning for themselves," Salzwedel says.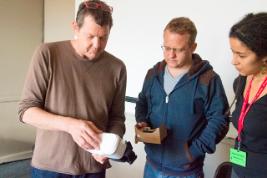 At the end of the workshop, participants were allowed to keep their Google cardboards along with the wealth of knowledge they received. The future is looking bright for this new technology and with Social Weaver introducing more media companies to 360? video we can expect South Africa to start producing exciting news content. For more information on the next short courses and on how to get Social Weaver to your company, visit their website: http://www.socialweaver.co.za/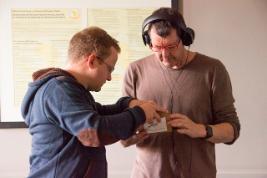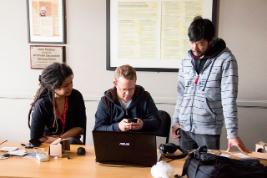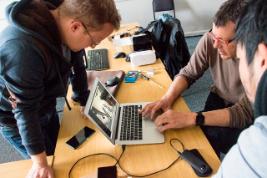 Source:Rhodes JMS