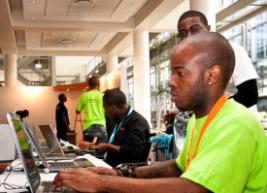 Rhodes > JMS > Latest News
JMS TO HOST SOUTH AFRICA'S FIRST DATA JOURNALISM BOOTCAMP
Date Released:
Mon, 3 September 2012 17:14 +0200
To meet this need, the partnership-driven Data Journalism Bootcamp is designed around a deceptively simple question: "Now that data has been 'opened', how can it capture the attention and imaginations of the full spectrum of users?" In other words, how can we focus on the other side - the demand side - of the open data phenomenon? How can we grow communities of data users, and encourage data 'ownership' by the media, civic hackers, community groups, NGOs, labor unions, professional associations, universities, and more?Accordingly, this Data Journalism Bootcamp includes:
3-Day Initial Training, with Sustained Follow-Up. The 3-day training will focus on core skills development for 'Data Literacy'. Each participant will be assigned a desktop computer in a large classroom for hands-on, guided practicals, starting with basic Excel/spreadsheet skills building, and moving on to creating pivot tables, scraping data from online, cleaning it, creating visualizations (e.g. using free online tools, such as Google Fusion tables and G-Refine), and ultimately, crafting narratives around this data, to find and tell the 'human story'.
Immediate Application. To maximize the utility of this 3-day training, the participants will be asked to self-organize into a series of small teams on day 1 (around topics they themselves select, such as: 'Health', 'Education', 'Elections', 'Tourism', 'Finance', etc), to select data-driven story ideas which they will develop throughout the 3-day training. The 3-day Bootcamp will be split into hands-on, experiential tutorials (which each participant will do in real time, along with the facilitator/trainer); and group work after each session (so teams could apply what they learn in the development of their stories). Each team will then present their final story ideas and rough visualizations to the whole group at the end of day 3.
Data Journalism Competition & Prize. The team with the most innovative use of data in their story will win a cash prize of

$1000

to develop their story, and build out their proposed app, toward piloting practical projects in newsrooms that seek to improve the quality of reportage and citizen engagement in public discourse.
Sustained Follow-Up. Participants will be invited to join local HacksHackers chapters across Africa, to bring together journalists (hacks) with technologists (hackers) for monthly meet-ups to collaborate on digital experiments designed to rethink the way that journalists gather, report, and disseminate the news.

This inaugural Data Journalism Bootcamp in South Africa will provide a practical introduction to demystify 'opened' data, and enable participants to explore opportunities to 'find the story' using this data through experiential training on use of data tools and platforms, and more. Opening data was indeed an important first step, and now media must become savvy interrogators of this data, so it can be understood by and resonate with individuals and communities, who may ultimately use it to become more active agents of their own development.
Source: