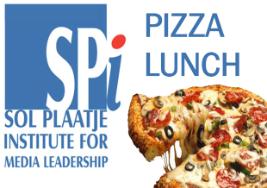 Rhodes > JMS > Latest News
SPI Pizza Lunch
Date Released:
Fri, 7 August 2015 12:19 +0200
The Sol Plaatje Institute for Media Leadership invites anyone interested in studying media management to a Pizza Lunch Information session.
If you have a degree or are currently in your last year of study, you will qualify to apply for the Post Graduate Diploma in Media Management. For more information you can visit the Sol Plaatje Institute's website: http://www.ru.ac.za/spi/


Date: Thursday, 13 August 2015 at 1:15pm
Venue: Sol Plaatje Institute (Behind the Great Hall)


PIZZA WILL BE SERVED! Om nom nom nom...


For any further questions please don't hesitate to contact: Yoli Madzidzela on y.madzidzela@ru.ac.za
Source:Rhodes JMS