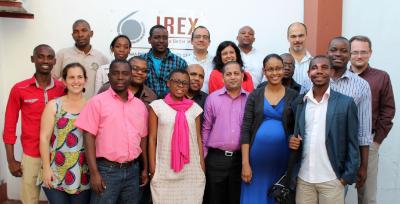 Rhodes > JMS > Latest News
SPI trains managers in Mozambique
Date Released:
Fri, 13 September 2013 08:03 +0200
By Peter du Toit
An eclectic group of managers from Mozambican media houses were unanimous in their praise for a new business management course the Sol Plaatje Institute for Media Leadership (SPI) launched in Maputo recently.
The Emerging Media Leaders Course (EMLC) was offered as part of an on-going collaboration between the SPI and the International Research Exchanges Board (IREX) in Mozambique. IREX, an international NGO with offices in Maputo, is responsible for a multi-facetted four year project funded by the US Agency for International Development (USAID) aimed at strengthening the media in Mozambique.
The course was facilitated by Carlos Henriques, a media trainer with substantial experience of working at a senior level in different parts of Africa for broadcasting platforms including the BBC and Voice of America (VoA). SPI deputy director, Peter du Toit, who created the course, was on hand to assist and to monitor the process.
Large parts of the course focused on questions regarding the importance of strategic planning in challenging media markets, but participants were also introduced to important tools they can use in developing their leadership styles, manage human resources and monitor the financial performance of their businesses.
The course was well received and participants gave positive feedback at the end of the programme.
HR manager for the newspaper Canal de Mozambique Gabriel Chihale said the course was "excellent" and that he would definitely recommend it to his colleagues.
Televisão Independente de Moçambique (TIM) production director, Danilo Mussá, agreed: "The training was excellent. The course gave me the tools I need and provided me with the knowledge and skills to manage crews and my company."
The EML course has been accredited by Rhodes University and each participant who successfully completes the programme will receive a certificate of competence by the university.
IREX has invited the SPI to run an additional three iterations of the EMLC course in Maputo next year. They have also asked for an advanced course for managers who have performed well in completing the course assessment tasks.
Photograph: IREX Mozambique
A job well done… Media management course facilitator Carlos Henriques (back, third right) celebrates with course participants and IREX staff at the end of the first course for Emerging Media Leader in Maputo recently.
Source: