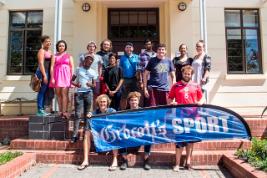 Rhodes > JMS > Latest News
Some people think sport is a matter of life and death. We assure you, it's much more serious than that.
Date Released:
Wed, 11 May 2016 11:25 +0200
by Ettioné Ferreira
Stephen Penney, sports journalist and photographer for Grocott's Mail, has successfully run the Sports Beat group with students since 2014. This year, the Sports Beat attracted 30 students to sign up for the initiative with 15 of them being active sports journalists each week.
The 'beats' programme started in 2014 to try integrate students into Grocott's by letting them work in certain interest areas such as arts, education and sports. The sports beat has survived and thrived, "probably due to myself being the only permanent Grocott's reporter in charge of the beat," Penney says.
With intense marketing this year during O-week and the first week of term, Penney was able to raise the number of students who signed up from last year. Penney's role is sports editor and under him he has appointed three mentors of senior students: Stephen Pettitt, Leonard Solms and Yvoza Qoshe who work with the new students who are writers, photographers, radio students and television students. The group produced their first television clip in the second week of term marking a new beginning for the beat by extending into broadcasting.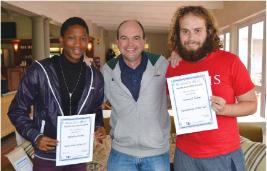 Stephen Penney (middle) with the two Grocott's Mail sports journalism award winners, Yvoza Qoshe (left) and Leonard Solms (right)
Solms, a second year BJourn student, enjoys being a mentor, "It's a lot of work. To be honest, what makes it all worth it is hearing people tell me they look up to me. That's all I ever wanted." Solms hopes to teach the new sports journalists how to make the most out of their talents, "Many of them clearly have massive potential. The first step is to ensure that setting out an article the right way in terms of structure becomes second nature to them. Once they've got that right, I hope to see them being creative and coming up with ideas that even I couldn't think of," he says.
One of the new 2016 writers is firstyear Toni le Roux "I decided to join because I wanted to try something new and have a motivator to work in my field outside of lecture assignments," she says, "I love the environment of the sports beat. Questions are welcomed and encouraged and our senior staff work extremely hard to motivate and teach the newcomers. It's a small team and that allows the work setting to be very informal while a high standard is maintained."

Toni le Roux at the Green Fun Run
Another first year Samantha Carolus is interested in becoming a sports journalist, "The sports beat covers more sporting events when compared to Activate and Oppidan Press, as an aspiring sports journalist you want to work for the paper that will give you the most exposure and stories. Also it is better to rather work for non-student press related media as it really prepares you for the real world of Journalism," she says. Carolus says what she enjoys most about being a part of the sports beat is being able to do "real journalism, while studying journalism".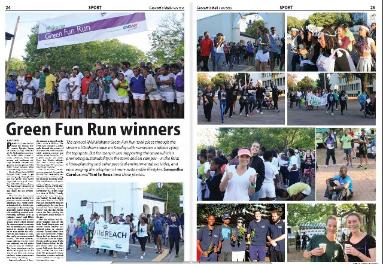 ‌
Images in the Grocott's Mail of 6 May 2016, all taken by Sports Beat journalists, Samantha Carolus and Toni le Roux.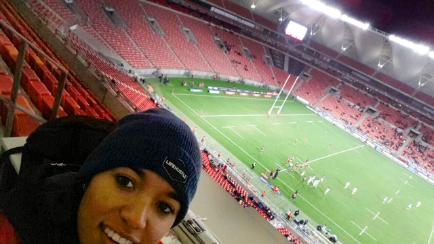 Samantha Carolus reporting for Grocott's Sport at a provincial rugby match.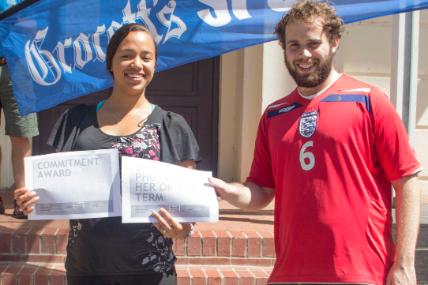 ‌
Leonard Solms hands over the Photographer of the Term award and Most Committed award to Samantha Carolus at the first term Grocotts Sport awards ceremony.
The journalists not only cover Rhodes events but sports events in the broader Grahamstown area as well as Eastern Cape events such as Southern Kings (rugby), Warriors (cricket) and Chippa United (soccer) events. Solms recently had an opportunity to interview rugby legend Naas Botha during his visit to the Eastern Cape. "We are trying to get them to get out of their comfort zones," Penney says, "I encourage the students to cover sporting events such as the Southern Kings as well as covering launches, etc. It's a way for them to meet other sports journalists and photographers – and who knows maybe they meet their future boss at one of these events."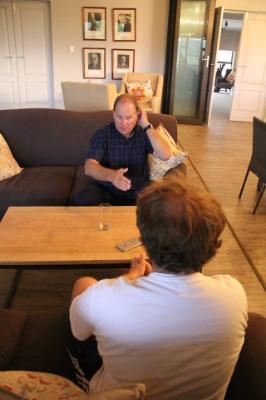 Leonard Solms interviewing Naas Botha

‌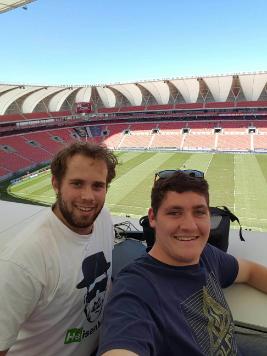 Solms covering a provincial rugby match in Port Elizabeth.
Penney's advice to sports beat students is to, "be passionate about all sports, don't just focus on your favourite sport". For the latest updates and sports news covered by the Sports Beat, join their Facebook page: https://www.facebook.com/GrocottsMailSport/ or grab a copy of the latest edition of Grocott's Mail at retailers in Grahamstown (or SUBSCRIBE ONLINE)
Source:Rhodes JMS