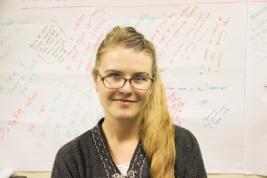 Rhodes > JMS > Latest News
Taking a different Rhode...
Date Released:
Mon, 5 May 2014 16:06 +0200
By Ettioné Ferreira
During the 2014 graduation ceremonies, Kyla Hazell received numerous awards for her work in the law faculty and the politics department. Hazell is also the editor of the campus newspaper, The Oppidan Press, bringing a touch of journalism to her law and politics degree.
At the graduation ceremony this year, Hazell received the Adams and Adams Law Prize, Alastair Kerr Prize, the Spilkin Prize for Law and the Terence Beard Prize for Politics (shared with JMS graduate Mark Davies). These awards are judged on academic performance overall. Hazell is now pursuing a joint honours degree in law and politics, focusing on international human rights law. Hazell does the majority of her work in the mornings and at night, leaving space during the day for unexpected Oppidan Press commitments.
Hazell took Journalism and Media Studies in first year. "There are so many ways to learn about journalism and I decided to take politics and law while gaining practical journalism skills through Oppie Press," she says.
Even though Hazell is not directly involved with the School of JMS, she still stays connected to the journalism students and the department through the opportunities that the newspaper offers. She plays an active role in recruiting students interested in journalism, for The Oppidan Press' editorial team. "It's nice because it keeps me a part of the journalism department and journalism education," Hazell says.
Journalism is also helping Hazell academically in her honours degree as well as socially. "I would have never gone to all the shows and seminars that I went to through my writing days at Oppie Press. You sit there and listen to a seminar you wouldn't even have looked at and think 'this is incredible!' it gets you out comfort zone and compels you to take that step and go experience what you haven't before." She explains that journalism helps her academically as well, making her aware of how texts and contexts operate. She also uses the practical skills for essays and academic work, "it comes into your essays. You can relate concepts and theories to real life. The value of journalism is that it gives you a broader outlook on things," she says.
Hazell grew up in Cape Town and was set on going to medical school. After matric, she did a gap year job-shadowing at Emmaus Swiss Leprosy hospital in India but soon she realised medicine was not where she wanted to be. Upon returning to South Africa, and following the advice of a family friend, she decided on and has not regretted the decision, she says.
She ends off, "I never thought I would be editor but it's really interesting. There's a time and place for everything, this is definitely the time..."
Source:Ettione Ferreira