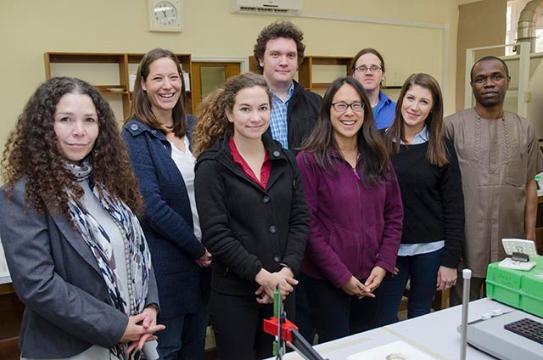 Rhodes > JMS > Latest News
JMS Alumna and UNICEF's Tanya Accone inspires innovation in sciences
Date Released:
Mon, 18 September 2017 10:30 +0200
By Ettioné Ferreira
JMS alumna, Tanya Accone, was this year's guest lecturer at the RU Biotechnology Innovation Centre's 8th Annual PD Rose Biotechnology Lecture. The lecture has been hosted for the past eight years to encourage innovation in the biotechnology and other science fields.
Accone is the Senior Advisor on Innovation and the Deputy of UNICEF's Global Innovation Centre in Bangkok, Thailand. (For more about Accone's journey after graduating at Rhodes, read our article on her from last year, HERE)
We asked Tanya a few questions to get a sense of the role UNICEF plays in innovation and more about the PD Rose lecture she gave:

Tanya Accone. Pic: Supplied
What is your role at UNICEF's Innovation Centre?
I help lead UNICEF's work to scale up proven innovations in multiple countries around the world. In the last year alone, our team supported 89 countries in applying innovations for real-time information, youth and access to information.
This means millions of people in 43 countries benefit from real-time information to improve children's health and wellbeing, education, protection and inclusion. U-Report engages 3.6 million young people, giving them the chance to voice their opinions via their mobile phones, opinions that inform law makers in shaping policies, learning and sharing knowledge about health, bullying, and topics that are of concern of young people. The Internet of Good Things makes life-saving and life-impacting information accessible to 5 million users in 50 countries in 19 languages.
We aspire to inspire others to use and support scaling these up by sharing our experiences and making these solutions available to others as open source innovations.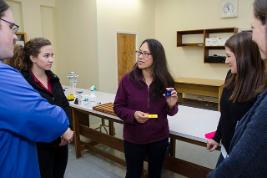 ‌
Biotech students listen to Tanya Accone during her visit to Rhodes University, Pic: Harold Gess.
How does UNICEF encourage innovation?
Knowing that the kind of results we want are impossible by traditional means alone, we focus on convening and collaborating on new and different solutions, low- and high-tech, through our office's global teams:
• UNICEF Futures – looks at the two to five-year horizon to evaluate emerging and trending technologies (with an emphasis on digital), and to see how UNICEF can work with the private sector on doing better business while improving essential services for children.
• UNICEF Ventures – invests in early-stage solutions that show great potential to positively impact children in the 2-year future (including a pooled funding vehicle that invests in open source technology solutions from start-ups based in UNICEF's programme countries).
• UNICEF's Global Innovation Centre – identifies proven solutions that can be implemented at national scale in multiple countries – taking the ideas that help thousands in one country, bringing them to dozens of countries across multiple sectors, and impacting the lives of millions of children.
• UNICEF's Supply Division Innovation Unit – focuses on improving physical product design to address barriers to access, services and information.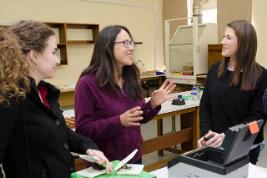 Biotech student, Tamika Fellows and Storm Hilliar, talks to Tanya Accone about the project UNICEF is funding, Pic: Harold Gess.
How has the Rhodes Biotech department partnered with UNICEF to encouraged this innovation?
Rhodes University Biotechnology Innovation Centre (RUBIC) undertook work to identify aptamers as a biosensor for point-of-care diagnostic tests for HIV. Aptamers are molecules that recognize and bind to specific molecules, similar to the way a key works for a specific lock. Aptamers can be used to determine if the specific molecule is present in a sample. Compared to antibodies, which are used on traditional point-of-care or remote diagnostics, aptamers have many advantages as they are small in size, chemically stable and cost effective.
The research group at Rhodes developed an aptamer that binds to the CD4 proteins of CD4 positive (CD4+) cells. These cells of the immune system are the targets of infection by HIV. For HIV+ patients, an increasing CD4 count is a sign that antiretroviral therapy is effective. The initial research was funded by the South African government.
Additional funding from the Global Innovation Centre (GIC) expanded this research to include the generation of aptamers for other issues of maternal and child health: high-risk pregnancy and malaria speciation. These aptamers will be used to create biosensors – test strips capable of detecting the specific aptamer and producing a colour to indicate their presence. This is being paired with the creation of an automated system that conducts colorimetric analysis on the test strip using a mobile phone camera: while you can see the biomarker change colour, automated analysis removes human error and will provide a quantitative analysis, more than a simple yes/no result. The colour produced by the test strip correlates with a higher concentration of the biomarker in the sample, so for example, the concentration of CD4+ cells in a blood sample can be calculated. Additionally, key aspects of the system (design, software, etc.) are open-sourced, so that researchers and others can benefit from and build on this work.
A collaboration between RUBIC and Tsinghua University Global Innovation Centre for Children (TUGICC) in China around expanding this research is currently being explored, as this research can be adapted to meet the needs of different contexts and bring sophisticated point-of-care diagnostics to marginalised groups.
What message did you want to get across at the lecture?
That everyone can innovate. Too often we think of innovation stereotypes, such as start-ups in Silicon Valley, or scientists in research and development labs. But that is not true. Not only are we each capable of innovating, but trends in the world demand/increasingly reward people who are able to take innovative, entrepreneurial and creative approaches. It is sometimes a case of marrying inspiration (attitude, belief and confidence) with perspiration (grit and determination) to take a great idea and make it real. We can all be entrepreneurs of our own lives.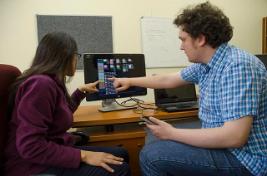 Tanya Accone and JC Bailey, a student from CompSci assisting the Biotech students in their project. Pic: Harold Gess
What would your message be to students from the science as well as journalism departments about innovation?
You are studying and will graduate into a world awash with many more opportunities than existed before. It is one where interdisciplinary capability will be a skill to have, so make the most of the chances you have here at Rhodes to choose subjects that help you expand this capability, and get involved with projects that bring together cross-disciplinary teams. You are at a time in your life when taking a risk and doing something new and different that adds value carries less risk than at any other times. Don't waste this window of opportunity!
Source:Rhodes JMS