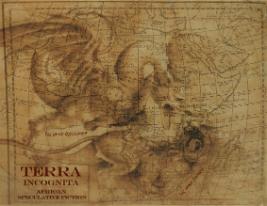 Rhodes > JMS > Latest News
Rhodents reign Terra Incognita
Date Released:
Mon, 25 August 2014 11:11 +0200
by Kerstin Hall


Terra Incognita.
It means "unknown land". Beyond the boundaries. Here be dragons.

It is also the title and theme of the 2014 Short Story Day Africa competition. This year, entrants from all over the continent were asked to delve into the world of speculative fiction within an African context. 104 rose to the challenge. Out of those, 18 were longlisted. And of those, four were Rhodes University students.

Some were past students. Some are still striving towards their degrees. And one of them was me.
I figured I would get the disclaimers out of the way. I am in the awkward position of writing about myself, which is uncomfortable to say the least. So I will talk about the others instead.
Nick Mulgrew, Mishka Hoosen and Brendan Ward. All of them spent some time at Rhodes. Maybe there is something in the water. Actually there is definitely something in the water – whether it is sewerage, e-coli or heavy metal deposits, Grahamstown has us covered. But it is an exciting and strange coincidence that – amongst authors from Nigeria, Namibia and Uganda – 22% on the longlisted writers are Rhodents.
Nick Mulgrew is not new to Short Story Day Africa. Last year, he was also longlisted. This means that he was published in the anthology Feast, Famine and Potluck. Nick graduated from Rhodes in 2010 with a BA in English and Journalism. Since then, he has gained an Honours degree at UCT and worked as the creative director of Paperight. He is currently freelancing as a writer and graphic designer and is busy with a magazine for "fine writing" called Prufrock.
‌
What are your hopes and plans for the future?
"Just to keep supporting myself by writing what I want. That's all I ever really wanted from my career and I feel privileged that that's my life at the moment. Publishing a novel here and there would be -pretty nice, too."

What other writing awards/achievements have you obtained?
This year I won the National Arts Festival Short.Sharp.Stories award for my short story "Turning", as well as a Silver Special Merit award at the South African Arts Journalism Awards. I've also had a short story longlisted for the Department of Arts & Culture's Twentyin20 project, which sought to identify the most influential short stories written by South Africans since 1994. It's been a pretty good year so far.


How do you feel about being longlisted?
Pretty good! I went out on a limb with my story – I seldom write speculative or genre fiction, and my story is really out there – and I was glad that the readers liked it. I prefer realist genres in which bad things happen to people. I read too much Flannery O'Connor and Raymond Carver, I suppose.


For you personally, what is most challenging about writing?
It's difficult to stay focused when you have a million ideas bouncing around your head and a thousand things to do, which is me just about every day. I don't think I'd want it any other way, though.


Apart from writing, what do you do for fun?
I rock climb and play squash. My girlfriend and I eat out way too much for our wallets' liking, too.


What do you miss most about Rhodes?
The cheap beer, mostly, but I found out on my most recent visit that the beer isn't that cheap any more.
Mishka Hoosen (22) completed her MA in Creative Writing at Rhodes in 2013. In her Masters, she focussed specifically on poetry and nonfiction writing. Like Nick, she is a fan of the realists (as well as the magical realists) and cites Flannery O'Connor, Gabriel Garcia Marquez and Jean Rhys as influences on her Terra Incognita entry.
What other writing awards/achievements have you obtained?
I was awarded a scholarship to finish high school as a Creative Writing major at Interlochen Arts Academy in 2009. Since then, I've been published in a few journals here and abroad, and won some prizes for poetry and nonfiction a couple years ago. I just came back from the Fermoy International Poetry Festival in Ireland, to which I was very honoured to have been invited.


What are your hopes and plans for the future?
I'm hoping to launch a non-profit organization with the aim of promoting voices of the Global South, so to speak — starting publications, running workshops, and promoting creative writing and journalism from marginalized voices around the world. I'm also finishing up prepping my nonfiction book, Hollow the Bones, for publication.


How do you feel about being longlisted?
Incredibly honoured to be listed with some very fine, strong writers, and glad that my work had found an audience that took a liking to it.


How do you feel about the number of Rhodents in the longlist?
To be honest I'm not entirely surprised. Rhodes has a fine reputation for literature, and it can be a good environment for the actual buckling down to write.


For you personally, what is most challenging about writing?
Everything. The whole bloody thing. The sitting down to actually do the thing. The finding words for the thing. The showing it to people. The whole bloody thing.


Apart from writing, what do you do for fun?
I want to be perfectly clear about this: I don't write for fun at all. It's work. I have to write or I go insane or die. If I ever start writing "for fun" I ask to be shot.


Brendan Ward (23) is still at Rhodes, in the first year of his English Masters. This thesis is on sci-fi, fantasy and the environment. He (like Nick and I) studied English and Journ till the end of third year. Brendan then made the unusual choice of studying a joint English and Journ Honours, so that he could pursue his passion for literature while still obtaining a journalistic qualification.


Have you obtained any other writing awards or achievements?
I've had one other short story published. T0here is this British musician who makes 1920 to 40's, Frank Sinatra-style music. His name is Jaime Cullum and he wanted to make a magazine to go alongside his tour of Europe. So he put out a call for short stories and I submitted and mine got published. I think. They said they'd send me a copy of it and it never arrived. So this (Terra Incognita) is the first one that feels real to me.


What are your plans for the future, especially with regards to writing?
I'd love to, you know…the big dream is to make a career out of writing creatively. But that's also contingent on so many things. Currently I'm pursuing the academic route, which gives me a lot of free time and access to the library. So I'm chipping away at it (mysterious creative project) slowly but surely.


What other competitions or publications have you submitted work to?
There is a magazine based in Cape Town called Prufrock. There is an ex-Rhodes student running it. (Brendan is unwittingly talking about Nick). They had a call for submissions and I sent something in, but I didn't get an confirmation email back from them. So I need to chase that up and we'll see how that goes. The other stories I haven't submitted yet.


What drew you to this competition?
A friend of mine did really well in it last year and her short story's gotten a lot of attention as a result. The theme of speculative fiction was also perfect; I've always loved fantasy and sci-fi and stuff like that… I'm deeply a nerd.
How do you feel about being longlisted?
I was trying to mark on the day that they announced the longlist. And I just put my marking away; I couldn't focus, I was just too excited. I follow SSDA (Short Story Day Africa) on Facebook and I saw that the longlist was up. And I thought, well, I haven't got an email, so I'll just see if there are any names I recognise- WHAT?! And then I kept going back to check because I hadn't gotten an email and I had this insane feeling that there must be some mistake. That they put the wrong name up or that there was another Brendan Ward. I was just crazy. Amazing.


How did you feel about the number of Rhodents on the longlist?
It's very exciting. I have a lot of pride for this university; it's such a great space. I know it's far from perfect, but you know, show me a perfect anything. In particular, the environment in the English department is very conducive to creativity. It's such a wonderful space. I was really proud to see so many Rhodents on the list. I'm not the big "Trivar and purple Thursday, bru" type, but I have some pride.


What's the most challenging thing about writing?
Pagefright. (A particular kind of stagefright.)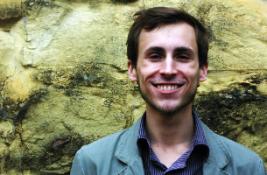 Brendan Ward is pleased.


Nick, Mishka and Brendan were all lovely and strikingly different. Their stories will now undergo a period of editing and revision before publication. In addition, the overall winners will be announced in October. With luck, a Rhodent will come out on top.


For this article and many more interesting blogs by our Writing and Editing journalism students visit the wordpress blog, Dartabase.
Source:Dartabase.wordpress.com