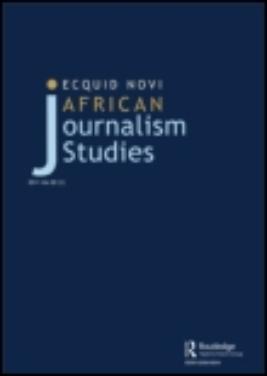 Rhodes > JMS > Latest News
The Latest Issue of Ecquid Novi: Journal of African Journalism Studies is out now.
Date Released:
Thu, 23 August 2012 16:53 +0200
"The approaches and methodologies drawn on in these articles are equally diverse and inclusive", says Wasserman. And with the in-depth analysis that is possible within Ecquid Novi's pages, the reader is truly taken on a pan-continental African journey that delves deeply into the issues at hand.
Ecquid Novi can be accessed online, and below is a short compendium of what is available in edition 33. Enjoy!
Ecquid Novi: African Journalism Studies, Vol. 33, No. 2, 01 Jul 2012 is now available on Taylor & Francis Online.
This new issue contains the following articles:
Editorial note
Journalism from all four corners of the African continent
Herman Wasserman
Pages: 1-3
DOI: 10.1080/02560054.2012.707793

Research articles
The press as a watchdog of the people: Revisiting a theoretical triad
Minabere Ibelema
Pages: 4-19
DOI: 10.1080/02560054.2012.684394

'I am a man!' The Daily Sun campaign and gender violence
Nonhlanhla Dewa & Jeanne Prinsloo
Pages: 20-35
DOI: 10.1080/02560054.2012.685178

Newspaper agendas and public opinion in the 2007 Kenyan presidential election
Uche Onyebadi
Pages: 36-53
DOI: 10.1080/02560054.2012.711764

Agenda building and the politics of regime legitimacy in East Africa
Yusuf Kalyango
Pages: 54-70
DOI: 10.1080/02560054.2012.684393

A tradition of dissent: West Indians and Liberian journalism, 1830–1970
Carl Patrick Burrowes
Pages: 71-86
DOI: 10.1080/02560054.2012.684395

Notes and commentary
Watchdog or lapdog? A look at press coverage of the extractive sector in Nigeria, Ghana and Uganda
Michael Behrman, James Canonge, Matthew Purcell & Anya Schiffrin
Pages: 87-99
DOI: 10.1080/02560054.2012.683803

Book reviews
Mobile phones: The new talking drums of everyday Africa and SMS uprising: Mobile activism in Africa
Gerard Goggin
Pages: 100-106
DOI: 10.1080/02560054.2012.683802

Communication and media ethics in South Africa
Terje S. Skjerdal
Pages: 107-109
DOI: 10.1080/02560054.2012.683801

The birth of a nation: The story of a newspaper in Kenya
Leslie James
Pages: 110-112
DOI: 10.1080/02560054.2012.683800
Journalism Studies Call for Papers: Mediatization of Politics
http://tandf.tandf.co.uk/journals/cfp/rjoscfp.pdf
To update which email alerts you receive, please go to: http://www.tandfonline.com/action/showPreferences?menuTab=alerts
If you wish to unsubscribe from this alert, please visit http://www.tandfonline.com/action/removeAlert?ai=balph&sig=IBjKQiZDWrA%3D
If you need any further help, please contact us at support@tandfonline.com
Source: