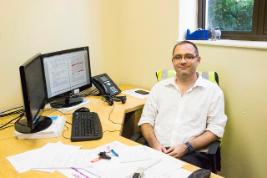 Rhodes > JMS > Latest News
The new face of Tech
Date Released:
Tue, 3 February 2015 11:49 +0200
by Ettione Ferreira
The Africa Media Matrix has a brand new Technology Manager as Michael Irwin takes over the reigns. Moving to the next door office of Tech Manager might not be a big move, but the job comes with a large jump in responsibilities. Meeting after meeting and countless hours consulting with his team; he is already steaming ahead in his new position.
Michael, originally from Mafikeng, finished his high school years in Grahamstown and then came to Rhodes to do a BSocSci. He furthered his studies with an honours in information systems, a postgraduate diploma in enterprise management before taking a job at the School of JMS.
He started working at the department before it moved to the AMM building in 2006 and was involved in the original IT infrastructure setup, becoming the IT Systems Specialist in the AMM building until his promotion this year. It is also during this time that he finished his masters in computer science.
Being the Technology Manager brings its own challenges as Michael experienced recently, "I have only been in the job just under three weeks, but the lightning strike last week which damaged a lot of important networking equipment has posed a definite challenge." Lightning struck the AMM during a heavy thunderstorm on the morning of 14 January knocking out telephone lines and network equipment worth thousands of ands (read more about the storm –http://www.grocotts.co.za/content/news-costs-mount-after-city-lightning-strike-15-01-2015)
The Technology Manager oversees all the technical equipment and operations within the AMM building ensuring that teaching and research are underpinned by a very smooth infrastructure operation. Michael oversees the five person tech team as well as communicating with the IT Division at Rhodes on a daily basis.
Technology Manager is a big task when overseeing a modern building dependant on technology but Michael says he is up for the job, "It is a welcome challenge that I am looking forward to, and I am also looking forward to contributing to the School in a different way."
Source:Rhodes JMS