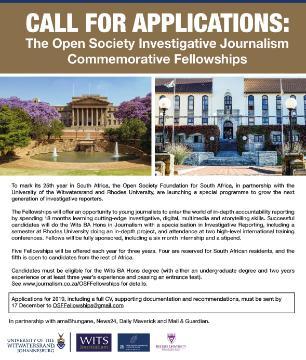 Rhodes > JMS > Latest News
The Open Society Investigative Journalism Commemorative Fellowships
Date Released:
Tue, 4 December 2018 10:51 +0200
To mark its 25th year in South Africa, the Open Society Foundation for South Africa, in partnership with the University of the Witwatersrand and Rhodes University, are launching a special programme to grow the next generation of investigative reporters.
The Fellowships will offer an opportunity to young journalists to enter the world of in-depth accountability reporting by spending 18 months learning cutting-edge investigative, digital, multimedia and storytelling skills. Successful candidates will do the Wits BA Hons in Journalism with a specialisation in Investigative Reporting, including a semester at Rhodes University doing an in-depth project, and attendance at two high-level international training conferences. Fellows will be fully sponsored, including a six month internship and a stipend.
Five Fellowships will be offered each year for three years. Four are reserved for South African residents, and the fifth is open to candidates from the rest of Africa.
Candidates must be eligible for the Wits BA Hons degree (with either an undergraduate degree and two years experience or at least three year's experience and passing an entrance test).
See www.journalism.co.za/OSFFellowships for details.
Applications for 2019, including a full CV, supporting documentation and recommendations, must be
sent by 17 December to OSFFellowships@gmail.com
CALL FOR APPLICATIONS:
The Open Society Investigative Journalism
Commemorative Fellowships
In partnership with amaBhungane, News24, Daily Maverick and Mail & Guardian.
Source:Rhodes JMS