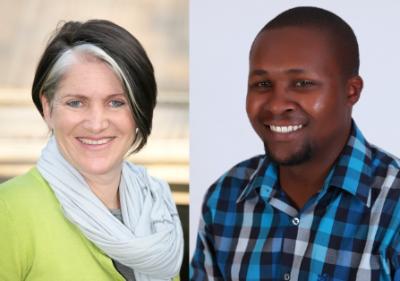 Rhodes > JMS > Latest News
JMS alumni are African Journalist finalists
Date Released:
Thu, 25 July 2013 12:57 +0200
Two Rhodes JMS alumni are finalists in the CNN MultiChoice African Journalist 2013 competition. Nicola de Chaud, who owns her own production company, Backyard Productions, and produces stories for Carte Blanche, and Thanduxolo Jika from the Media 24 Investigations Team, are two of the five finalists from South Africa. The competition, now in its eighteenth year, received entries from 42 countries across the continent and there are 27 finalists from 11 countries.
Nicola de Chaud graduated from Rhodes University in 1986 with a bachelor of journalism degree and an honours degree in drama. She studied television in journalism and dance in drama. De Chaud was nominated for a story she did on a young ballerina who was born in the Congo, and as an orphan was told she could never be a doctor. One day the girl found a picture of a ballerina in a magazine, promptly tore it out, and kept it under her pillow. She was at an orphanage where children were rated according to their desirability from one to 50, and she was number 50. The story, which can be viewed on the Carte Blanche website, follows the life of the little girl who was adopted, along with number 49, and did in the end become a ballerina.
De Chaud and Odette Schwegler, who started Backyard Productions together, won an award in 2007 for their story on the Angel of Soweto which they produced for Carte Blanche. The story is about a woman in Soweto who started an aftercare facility for wayward teens that turned out to be a scam.
De Chaud enjoys producing "personal stories about the human spirit". She once went to cover a story about a volcano that had erupted, and when she got there the lava was still hot, and it melted her tekkies. "I like meeting people in their world," she says. What inspires her? "Authenticity."
Thanduxolo "Jix" Jika graduated from Rhodes University with a bachelor of journalism degree in 2004. Jika studied journalism, communication and politics. He was nominated for the Faces of Marikana project, which was done by Media24 Investigations and City Press. "I am proud of the fact that I was part of the team at Media24/City Press that told the story behind the story after the Marikana massacre in 2012.
"I feel that we managed to tell a story of the victims of the massacre and showed that they were not just faceless people but were ordinary human beings who had families. They were fathers, brothers, husbands and uncles to others."
In 2010 Jika received a cash prize and a certificate of commendation at the CNN African Journalist of the Year Awards for his "Dying to Live" exposé which highlighted the injustices the Somali community in the Eastern Cape was subjected to and the constant fear they lived under.
People motivate him. "I want to play a role in changing our society and exposing social injustices so that our children can live in a better South Africa."
Jika says his journalistic work is about investigations, "particularly that type of journalism where I get a chance to live side by side with the subjects and be part of the story to tell it first-hand". Jika prefers to look "at the story behind the story and not just report on a story to fill up space".
When Jika was a student he worked hard and did internships for radio and newspapers to gain knowledge and experience. He says he was lucky to work with editors and news editors who believed in young talent and cared less about the so-called "juniorisation of newsrooms".
"Instead they were eager to mentor and give direction to motivated journalists."
"My advice to recent graduates would be to look for places where they can learn more about their craft and not pretend to know it all," says Jika. "They should also work towards changing people's lives and have an impact on society instead of crass materialism."
De Chaud's advice to recent graduates is, "Be prepared to do whatever it is to get into the industry." She says there isn't a patented career path, she started by doing research for programmes, followed by editing, and later she got into directing and producing her own work. De Chaud says graduates should be willing to learn, they should not be arrogant, and they should be reliable and dependable.
Words by Annetjie van Wynegaard
Source: