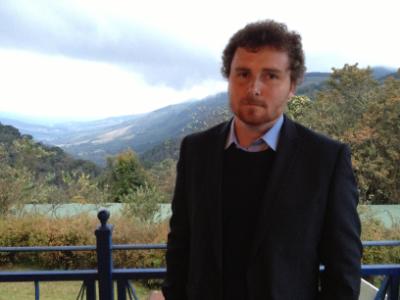 Rhodes > JMS > Latest News
Alumnus scoops environment award
Date Released:
Thu, 26 September 2013 09:11 +0200
By Annetjie van Wynegaard
A former Rhodes University journalism and history student is the winner of the corporate social investment/sustainability category at the 2013 Vodacom Journalist of the Year Awards for the northern region. Sipho Kings, environmental reporter for the Mail & Guardian, received the award for his story on "Bio fuel plant backfires on community".
Kings wrote this story about a biofuel plant in Cradock last year. "This was initially a positive story about how biofuel was creating industry in a small community," he said, "But it turned out to be a much bigger failure and political issue, which led to a more investigative story."
He started working at the Mail & Guardian as an intern after he finished his history honours at Rhodes University in 2010. He said, "They liked how well I made tea so they offered me the environment position in 2011." Now he writes stories for the weekly newspaper, and makes sure that the online environment page stays vibrant. "Every day is totally different, depending on if I am in the office or on the road to some far-flung corner of the country." Kings keeps his ear on the ground for stories about the environment and places where people's environment is being abused. "This is the great thing about M&G, because we want to talk to people who are having problems and write about the human side of issues like climate change," he said.
He said that winning the award has shown him how his peers see him. "It is great to know you aren't writing random stories that nobody reads!" In his spare time he reads about his beat and studies the scientific jargon necessary to stay on top of things.
Kings specialised in writing and editing in the School of Journalism and Media Studies. His advice to students is not to focus so much on a straight journalism course. "Being a journalist is about knowing interesting things and a little bit about a lot," he said. "Good newspapers do not only want someone who can churn out a basic story structure, they want someone who can write about life and have some of their own experience to colour that writing."
"When you go for an interview you can then talk to life, which is what journalism is all about, rather than what a pyramid structured news story is. And read. All the time. About as many random things as you can. If you do get your foot in the door, be that person who will do anything they are asked to do, whenever they are asked."
Read about all the winners here.
See Sipho Kings's M&G profile.
Photograph supplied by Sipho Kings.
Source:Interview with Sipho Kings