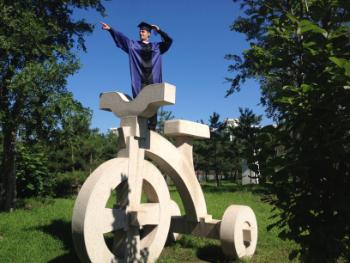 Rhodes > JMS > Latest News
Homeward bound graduate
Date Released:
Fri, 27 September 2013 08:53 +0200
By Annetjie van Wynegaard
After two years in China, countless adventures, and with a Master's degree in global business journalism under his belt, Daniel Charvat has made a quick pit stop at Rhodes University to share his knowledge with students and lecturers.
Charvat graduated from Rhodes University with a BA in English and Journalism and Media Studies in 2010 where he specialised in writing and editing. After Rhodes he went to Beijing to study at Tsinghua University. He arrived in South Africa three weeks ago and this week he visited Rhodes and spoke to students in the Confucius Institute and in the School of Journalism and Media Studies. Charvat told journalism students about the roles of social media and new media in China and how it is affecting the Chinese media landscape.
He said that social media use in China is twice as active as in the USA, and this puts a lot of pressure on the Chinese government. Even thought there is still censorship, they can't censor everything, he said. In the past five years there has been a visible shift in media reporting in China away from state secrecy. Journalists are still restricted in China, he said, and despite the increase in newspapers there's still a lot of artificial stimulus from the government, but there are many alternative opportunities for journalism in China.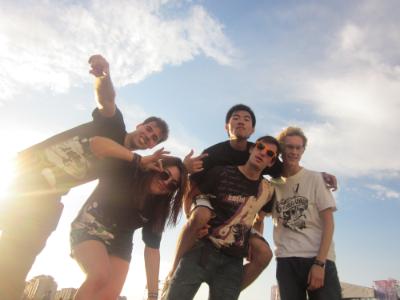 During his two years at Tsinghua University Charvat said he worked hard, and he played hard. He worked at the City Branding Studio where he gained insight into the norms and customs that drive the way Chinese people do business.
Rhodes University and Tsinghua University have recently signed a Memorandum of Intent. Another Rhodes journalism graduate, Lincoln van der Westhuizen, is there at the moment doing his MA in business journalism. Charvat said Tsinghua is the number one school in China, and is often referred to by locals as the "Harvard of China". Charvat cited the launch of the new Schwarzman scholarship in the USA as a reason why Tsinghua is fast becoming an internationally recognised institution.
Starting in 2016 and modelled on the Rhodes Scholarship, Schwarzman Scholars will support 200 students from all over the world to study any one-year Master's Degree programme at Tsinghua University. Read more about the scholarship.
Photographs supplied by Daniel Charvat
Main photo: Daniel Charvat graduated with an MA in global business journalism from Tsinghua University.
Photo 2: Daniel said during his two years in China he worked hard, and he played hard.
Photo 3: Daniel and his friends at the Harbin Ice and Snow Festival. The entire house is made from ice.
Source:Daniel Charvat