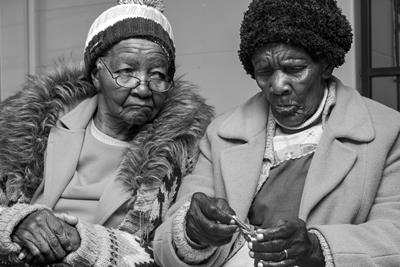 Rhodes > JMS > Latest News
A trade for Madiba
Date Released:
Wed, 9 September 2015 11:40 +0200
Photo: Lillian Moyakhe and Sixaba Angus learn how to crochet with strips of plastic bags in Grahamstown, Tuesday, 28 July, 2015. Finger-crocheting lessons took place at the Assumption Development Center during Trading Live week in honour of Nelson Mandela. Pic: Bianca du Plessis
by Ettioné Ferreira
Imagine extending your 67 minutes for Madiba to a whole week of events and getting the local community to partake in trading skills. This is what Rhodes University Community Engagements' dr. Nosipho Mngomezulu and Diana Hornby had in mind when they discussed the possibility of Trading Live in 2011 and 2012. Now, Trading Live week has become part of the Grahamstown calendar and JMS students have been playing an essential part in the coverage of the event for three years.
The School partnered with Community Engagement in 2013 for the first time to act as the official communication channel on Trading Live events. The third year JMS students have become the official reporters and have produced content for Grocott's Mail Online as well as a print insert published a week after Trading Live in Grocott's. Work can be viewed on the Grocott's Mail website and on the Trading Live Facebook page (View 2013 and 2014 work).
This year the students once again worked hard to produce content to showcase the efforts of the community for Trading Live: from children giving a spa day to the elderly to an African bead tutorial, the week was filled with interesting activities for the students to report on. It ended with an insert in Grocott's Mail and an exhibition on Rhodes campus from 17-21 August.
If you would like to take part in the Trading Live for Mandela next year, you can contact Nosipho Mngomezulu at tradinglive4nm(at)gmail.com.
View TradingLive Grocotts insert 2015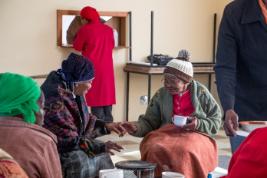 Members of the Fingo Library reading programme enjoy tea and cake before starting the day on Monday, 27 July, 2015 in Joza, Grahamstown. The women meet every week day. They are read to and discuss books and passages while receiving breakfast and lunch. Photo: Madeleine Chaput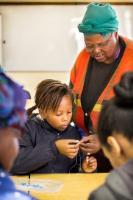 Nolwethu January assists with the bead work at the Steve Biko Union Building, Rhodes University, Grahamstown, Eastern Cape, South Africa. Thursday, July 30, 2015. January's African bead work necklaces and crafts can be purchased under the arch. Photo: Aaliyah Tshabalala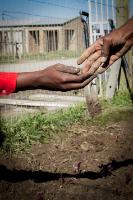 Pupils from Ntsika Secondary school pupil work together for 67 minutes as part of Mandela day; Tuesday, 28 July 2015. Through the 67 minutes people can make a gesture of solidarity with humanity and make a step towards a movement for good in Joza, Grahamstown, Eastern Cape, South Africa. Photo: Kerryn Chegwidden.

‌
Source:Rhodes JMS