Rhodes > JMS > Latest News
A year later living in Beijing
Date Released:
Thu, 22 May 2014 11:16 +0200
Prof Herman Wasserman has just returned from a visit to Tsinghua University in Beijing, China, where he attended the 4th Roundtable on Global Media Ethics, and stayed on to teach a guest lecture series on 'China-Africa Media Engagements' to students from Tsinghua's MA Global Business Journalism programme. One of the members of the class was Lincoln van der Westhuizen, a Rhodes JMS alumnus, who attends Tsinghua on a scholarship awarded as part of an agreement between Rhodes University and Tsinghua.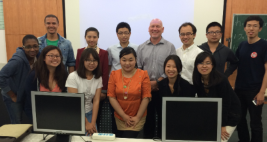 Lincoln left for Tsinghua University in June last year on an all-inclusive scholarship which he received from the Chinese government, to study a Masters in Global Business Journalism. He received his BA in radio journalism and a Post Graduate Diploma in Media Management, in 2011 and 2012 respectively. The MA in Global Business Journalism course looks at not only business journalism but also more broadly at economic journalism.


We've asked Lincoln six questions about his new adventure:
Why did you decide to go?
"I decided to go because the opportunity came up at the right time and I wasn't yet in a long term job. The Chinese government were offering these really good scholarships and I thought it would be a good idea to come to China and experience a culture completely different from my own. Up until the very last moment I wasn't sure whether I would go or not, but opportunities like this don't come along that often. You'd have to be incredibly 'up yourself' not to take it."
Outline a typical day in Beijing for you
"I get up at about 7:00 AM and work on my Chinese till about 8:30. (I then) go to class at about 9:30. Class is until 12:30 and then work in the afternoon until whenever I'm done - usually around 17:00."
How does the Rhodes JMS course connect with the one you're doing there?
"It doesn't really have a lot of similarities. The JMS course is generally a bit more complex. The course we're doing now is not as hands-on. Herman Wasserman visited to do a short course on Africa and China media engagement which was very interesting. Any Rhodes student coming here might find some of the concepts a lot less complicated than some of the issues we wrestle with at home."
When will you be back in SA?
"Not sure. I'm graduating in the middle of 2015, but I'm not really sure if I'm coming back yet. There are a lot of media opportunities here, and (provided you can sufficiently pick up the language) I think you can find a pretty good job here."

Which new experiences and memories in Beijing stand out so far?
"Wow too many to mention. I went skiing near the Great Wall which was properly fantastic. Joined a Polynesian rugby team and they taught me a Haka. I ate scorpion and it was a little underwhelming. Saw Chinese New Year which was one of the most brilliant experiences of my life - it looked like someone set the sky on fire. These and a thousand others..."
What do you miss most about SA – if any?
"I miss sport and I miss eating meat. Predictably, China isn't very big on rugby, braaivleis or cricket so it's been tough adjusting since I realised how much of my socializing actually centered around eating meat and watching people kick/hit/throw a ball around a field. I miss my family very much and all my friends scattered around the country. I also miss speaking Afrikaans and the ease of being in a country where I can make myself easily understood. And then crucially, I miss Chocolate Steri-Stumpies. *sigh* ..Steri-Stumpies..."
To read our article on Lincoln before he left follow this link, http://www.ru.ac.za/jms/jmsnews/welcometobeijinglincoln.html
Source:Ettione Ferreira, Herman Wasserman, Lincoln van der Westhuizen