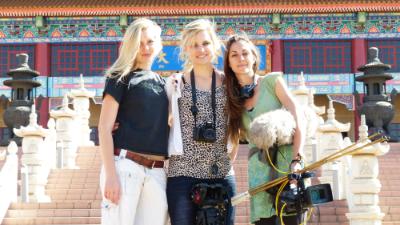 Rhodes > JMS > Latest News
TV students strut their stuff
Date Released:
Mon, 7 October 2013 10:30 +0200
By Jack Kaminski
On Wednesday 16 October the fourth year television students from the School of Journalism and Media Studies at Rhodes University are hosting their 8th annual documentary film festival in the Rhodes Drama Theatre. With a cocktail party to kick off the night, the event will screen four 24 minute documentaries produced by the TV4 class.
These documentaries deal with social phenomena and issues, such as Chinese and Taiwanese representation in South Africa, the misconceptions of albinism, modern humanity's disconnect to the Bushmen way of life, and Congolese refugees seeking employment in South Africa. Paper Dragons explores the experiences of Chinese and Taiwanese descendants living in South Africa, delving into the lives of seven individuals and taking the viewer on a journey of cultural exchange.
Xakhubasa provides an inside look into the lives of South Africans with Albinism. It is a story of the challenges and the triumphs in living in a country where they are largely marginalised by others who struggle to place them into the proverbial "rainbow nation".
Conversations with Paul Myburgh aims to convey some of his more fundamental philosophies on the ancient wisdom of the Bushmen from his film and book. After living with the Bushmen in the Kalahari Desert for over seven years, the documentary attempts to remind modern humanity what it is that we have forgotten from the knowledge and way of life of the /Gwikwe Bushmen.
I Seek a Safe Place tells the story of three Congolese refugees and their experience in South Africa, attempting to change the stereotypical perceptions attached to foreign nationals in the country. The documentary follows the struggles that these refugees encounter and the ways in which they overcome them.
The Film Festival rolls its red carpet at 6:30 for 7pm. Tickets are available at The Africa Media Matrix (AMM) or from the RUTV4 students for R30. For more information contact Paddy Donnelly, p.donnelly@ru.ac.za, 076 916 1166
Photograph by Minette van der Walt
From left to right: Katja Schreiber, Kirsten Allnutt and Minette van der Walt
Caption: RUTV4 students standing outside the Nan Hau Buddhist Temple in Bronkhorstspruit, the biggest Buddhist Temple in the Southern Hemisphere, where they shot their documentary, Paper Dragons.
Source:RUTV4