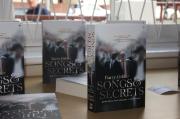 Rhodes > JMS > Latest News
Umkhonto we-Sizwe soldier speaks of history and hope
Date Released:
Wed, 7 November 2012 10:34 +0200
A former Umkhonto we-Sizwe (MK) soldier, Barry Gilder launched his latest book in Grahamstown entitled From Rebellion to Governance: The Songs and Secrets of Barry Gilder.
At the event, which was jointly hosted by the Institute of Social and Economic Research (ISER), the School of Journalism and Media Studies and the Faculty of Humanities, Gilder reflected on his life of political and cultural activism, his involvement as a Umkhonto we-Sizwe (MK) soldier, and later, his service in government intelligence.
Interviewing Gilder was Professor Robbie van Niekerk, Director of the Institute of Social and Economic Research, who suggested that the book, which recalls influential decisions and pivotal moments in ANC and South African history, represents an important commitment to accountability.
Such transparency allows for honest engagement and ostensibly raises the bar for current ANC leadership. Discussing his holistic approach to activism, Gilder said he didn't delineate between cultural and political expressions, though his resistance to apartheid took various forms -- from writing songs, organising marches and eventually training in Angola as a soldier for MK.
"You can't separate cultural work from your involvement in struggle," said Gilder, "I felt it wouldn't be right to stand aside and sing of struggle if I wasn't involved myself."
Such active participation eventually meant exile and military training -- something that few white ANC members did. "Those were the happiest years of my life," said Gilder, describing the camaraderie and utter absence of racism in the Angola camps. Because soldiers couldn't reveal their true identities and no mirrors existed in the camps, a palpable colorblindness developed amongst the soldiers. "For me that was a window into the sense of what South Africa could be," said Gilder.
He was still in exile in the late 80s when negotiations between the government and the ANC were taking place behind closed doors and the unbanning of the ANC was on the horizon. Gilder recalled feeling confused and cynical upon hearing FW De Klerk speak about unbanning the ANC.
"We were happy about the unbanning but skeptical about what could come out of it," he said. Upon his return from exile, Gilder recalled a strange anticlimactic atmosphere: "When I came home, there was no triumph of return -- no welcoming party."
In the new democracy, he took up a career in the intelligence wing of the government. He described the difficult transition from struggle intelligence to post-apartheid intelligence. "Two groups had to work together," Gilder said, noting the relative smooth integration which was owed to South Africa's constitution and carefully crafted legislation.
Gilder then served as the Director General of the Department of Home Affairs, and then as Coordinator of Intelligence until 2005, when he retired at the Mbeki/Zuma changeover. At present, Gilder is Director of Operations at the Mapungubwe Institute for Strategic Reflection, a policy think tank.
On the subject of the present state of the ANC, Gilder remained positive. Disinterested in debates about who should be in leadership, Gilder chose to emphasise what must change for the strengthening of the party and the country as a whole.
Mangaung would be a telling event, likely to produce greater cohesion and commitment to change, projected Gilder. He was confident there would be a relative consensus on what needed to be done -- "And that's what gives me hope," he said.
Photo and story by Hailey Gaunt
Source: