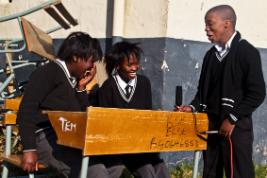 Rhodes > JMS > Latest News
Video boost for future journalists
Date Released:
Fri, 23 August 2013 12:52 +0200
By Kayla Roux
Upstart, a newspaper project which works with pupils from Grade 8 to Grade 11, received a boost in the form of a videomaking kit from Vuselela Media. Gino Shelile, a media facilitator and content producer for Vuselela Media, stopped in Grahamstown this week to train local youth in digital storytelling. Shelile studied television journalism at the Rhodes University School of Journalism and Media Studies. He also did the Postgraduate Diploma in Media Management at the Sol Plaatje Institute.
The kit includes a tripod, two cutting-edge video cameras, an Apple Mac laptop and educational booklets full of pointers for making great videos, all worth over R20 000. After an official handover on Monday 19 August, Upstart pupils had a week of intensive training where they learned how to craft compelling stories.
Vuselela media facilitator Gino Shelile first worked with Upstart as a Rhodes Journalism student in 2011, and he saw an opportunity for Vuselela to help them out. The media organisation is a non-profit company that trains and connects young South Africans, giving them the skills and opportunities to share their stories.
In this video Shelile speaks to Upstart project manager Shireen Badat.
This story first appeared in the online edition of Grocott's Mail and has been republished with permission from the writer and the editor. See the original article here. Kayla Roux is the New Media Producer and can be contacted at kayla@grocotts.co.za

Photograph by Jonathan Jones. In 2011 third year television students from Rhodes University School of Journalism and Media Studies teamed up to start the Upstart short film project.
Source: