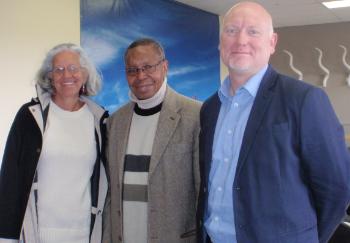 Rhodes > JMS > Latest News
What would Percy Qoboza say?
Date Released:
Tue, 22 October 2013 15:23 +0200
By Annetjie van Wynegaard
On Tuesday 22 October Dr Joe Thloloe, the director of the Press Council, visited the School of Journalism and Media Studies during the 8:30 seminar time to talk about the Press Council and the Press Code. The title of his talk was, "What would Percy Qoboza say?" Thloloe was the Press Ombudsman from 2007 until 2013 and is a regular attendee of the annual Highway Africa Conference.

A laptop fan whirred in the seminar room. Rod Amner had just asked Dr Joe Tholoe, the director of the Press Council, if he thinks South African newspapers articulate the views of the Press Code. Thloloe creased his forehead, took a deep breath, and said:
"Every morning I look at the papers. Then I walk around in downtown Johannesburg. There's a huge divide between what I read and what I see."
Thloloe has two concerns about journalism today – writing and ethics.
"We miss the texture of South Africa in our writing," he said. "We are unable to tell the complex South African story."
Writing teacher Gillian Rennie asked: "What might journalism educators teach students that will make the spirit of Percy go 'wow'?"
"I would hammer on writing skills," said Thloloe. "Writing skills in the newsrooms are not what they should be." He said there are exceptional writers in South Africa, but there are also very pedestrian writers. "We the end users are left with poor writing."
His reckons one of the reasons for this is because the middle level of newspapers has been removed. "You have the old timers at the top and the new comers at the bottom, with nothing in between."
His second concern is ethics.
"Ethics should become part of every journalist's DNA. Ethical faults should jump off the page screaming at them." So what should journalism educators do? "They should ensure that ethics is something we do when we breathe in and we breathe out."
Professor Lynette Steenveld delved into the dimensions of the writing problem: "But what is missing in the writing? Is it accuracy?" She mentioned the recent debate between Ferial Haffajee and fellow City Press reporters. Haffajee said that you don't have to be black to cover South African politics correctly. "What experience do we need to be able to enter a world and describe that world?" asked Steenveld.
"Good writing is like throwing a pebble in a quiet pond. A simple sentence can say so many things," said Thloloe.
When he was part of the Union of Black Journalists they believed that white journalists could never tell the stories of the townships as black journalists could. This is true, but not true, said Thloloe. "As a writer you should put yourself in the shoes of any subject."
Getting back to Amner's question, Thloloe said: "Yes, we are doing what's in the (Press) Code. On the whole we give South Africans the information they require."
But there is something missing, a depth and a quality of writing that's hindering our ability to handle the complexity of the South African story.
Now, 36 years later, what would Percy Qoboza say?
Qoboza (1938-1988) was the editor of the World and Sunday World, which was shut down on 19 October 1977 by the apartheid government and Qoboza was put in "preventative detention". Six months later he emerged from the cells and became editor of the Post and the Weekend Post which were closed down in 1981 by their owners, the Argus Company, due to government threats.
Qoboza was a Nieman fellow at Harvard University from 1975 to 1976. When he returned to South Africa he said: "I found myself completely maladjusted, quite unable to accept the things that seemed quite normal before."
Thloloe remembered Qoboza saying: "If you sometimes get mad at me, because the sentiments I express keep you awake at night, then I am glad. I do not see why I should bear the brunt of insomnia worrying about what will happen tomorrow. If many of us can keep awake at night, then maybe we will do the sensible thing and talk together about our joint future."
Thloloe became quiet. "What has happened to that Qoboza-like anger?" he asked. "We need to be jolted out of our complacency."
"We need to read his writing again and place it at the centre of our discussions."
Thanks to people like Qoboza journalists will no longer be jailed for what they write, nor banned at the whim of a politician, said Thloloe.
"Percy would be delighted at the values of the Press Code. I can hear Percy clap his hands. These are the values he stood for. This is what he meant when he said: 'I see my role and the role of those people who share my views as articulating, without fear or favour, the aspirations of our people.'"
What would Percy Qoboza say?
"Percy would listen, take a sip from his neat brandy, he'd screw up his face at the taste. Then he'd say: 'Wow! So much has changed. And so much hasn't changed. It sounds as if it's even worse.'"
"We'd hear him and nod our heads. So much has changed for the better, and so much is worse."
Photograph: Dr Joe Thloloe (middle) with Professors Lynette Steenveld and Herman Wasserman at the School of Journalism and Media Studies on Tuesday.
Source:Seminar