Rhodes > JMS > Latest News
Yummo food ideas from JMS alumni
Date Released:
Thu, 8 May 2014 16:18 +0200
by Ettioné Ferreira
With the official launch on 19 May 2014 of the cookbook, Yum-mo! around the corner, Carina Truyts prepares to show South Africans on a budget an easier and cheaper way of cooking. The launch will be at the University of Pretoria with the help of the Honours marketing class who did their semester project on marketing the book.
The 25-year old Truyts was born in Cape Town but has lived in Lesotho, Bloemfontein, Centurion, Sabi Sands Game Reserve before studying at Rhodes University and the University Cape Town. After school she attended chef school and trained and worked in restaurants and hotels until she was 21 and decided to go to university.
Truyts started at Rhodes in 2010 majoring in Journalism and Media Studies as well as Anthropology. She graduated in 2012 with a journalism degree from Rhodes and decided to go to UCT for an honours degree in social anthropology. She is now doing a Masters degree focusing on nourishment and access to food within the first thousand days of life: "I plan to finish studying, keep writing, cooking and thinking about food and seeing where that takes me," she says.
The idea for the book started when she moved into a digs in her second year where she ended up teaching most of her digs mates how to cook. She says, "Eating together was really important to us and we spent a lot of time mucking about in our kitchen. Someone once said 'you should start a cook book' and the idea stuck." During a lunch party at her aunt's house luck struck when she incidentally ran the idea by her sister and aunt and a Media24 writer and board member was sitting across the table. He set up a meeting with the food editor at Human & Rousseau for Truyts to pitch her concept. She feels it's thanks to Jude Mathurine and his New Media course that she had a cooking blog ready to show off her writing and knowledge of food.
Back at Rhodes, Harold Gess, Photojournalism lecturer, heard about the contract for the cookbook and agreed to help with photos which helped Truyts because she had no budget for the book. Three of the fourth year photojournalism students, Andrew Brukman, Christi de Beer and Sara Garrun, contributed the pictures. Brian Garman, Design lecturer, took on the book as the fourth year design students' semester project. Truyts, Garman and the publisher of the book chose Stephanie Pretorius' design as the template for the book and she was given an iPad sponsored by the publisher as a prize.
As for the food, Truyts had her digs mates test the food and pose for interesting photographs to be used in the book. She also cooked in friends' kitchens across Grahamstown to get different people involved.
"For me, the book is about sharing and eating together. You'll see from the photos that the vibe is about togetherness… it's an approachable learn-to-cook book. The aim is to help those who feel a bit insecure in the kitchen to feel comfortable. At the same time, it has fun new ideas and twists for those who have a bit of experience already," Truyts explains.
There are recipes that cater especially for students and young people with small budgets, low electricity meals, minimum dishes (for those who hate washing dishes) and meals for those in a hurry. Truyts says that the recipes are wholesome and they teach people to make 'real' food and also leaves them with confidence in the kitchen, by providing an array of ideas.
She says "There are also a few 'schmancy' things that you can make for dinners or dates, and cakes for birthdays and so on."
Be sure to get your copy of Yum-mo! from 12 May at chain bookstores such as Van Schaik's and Exclusive Books. The book is also available for purchase on the website, www.yum-mo.co.za in Afrikaans and English for only R180.00.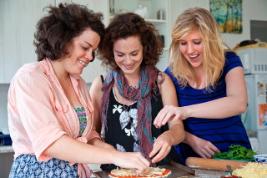 ‌
For more information:
http://www.nb.co.za/Books/16661
www.yum-mo.co.za
Photos: supplied.
Source:Ettione Ferreira